Meet the Team: Ashley Carter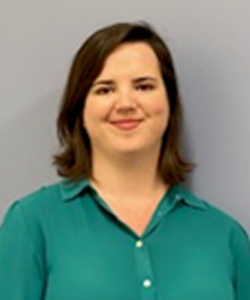 At the Steven A. Cohen Military Family Clinics at Centerstone our team is phenomenal. Each and every staff member not only plays a crucial role in accomplishing our mission to ensure our military families receive the care they've earned, but they do so from the heart and with a passion that can't help but to inspire. Here's a closer look at one such teammate therapist Ashley Carter.
Tell me a little bit about yourself, such as where you grew up and your background leading up to joining CVN?
Life for me, began in small town New Hampshire. I spent my childhood outside, exploring the woods, playing in the falling leaves, or the snow, and catching lizards and snakes in the yard. I grew up believing I would be a zoologist and work with animals for my life. I was always reading, exploring, and playing until the night came. After sixth grade, my family moved to Tallahassee, where my mother's family lived.  I got to know my cousins, love on my grandparents, and learn just how different the north and south were. The whole first year my family refused to not wear shorts, and I experienced my first hurricane.
I graduated with my Masters in Mental Health Counseling from University of Central Florida in sunny Orlando. From there I worked in the residential substance abuse field.  In such a complex arena, I gained experience in trauma work, life skills, intimate partner violence, and the recovery system.  Addiction is never just one thing, each person who struggles has so much more that influences their disease. Working with the whole person is such an important part of recovery, both in substance abuse and counseling in general. In this work, I grew in my passion for helping others heal and watching clients find purpose in life again. That passion drew me to this amazing company.
If a Veteran, can you tell me about your time in service?
I am not a veteran. I learned a lot from family members who have served and strive to learn from the clients I see every day who served this country with honor and integrity.
You've taken life experience and built a career to help others, what was your greatest takeaway from this process?
When I was in college, I said I would be a forever student. Little did I know that I chose a career where that is exactly what I would get to be. I learn more every day. Whether it is through trainings, readings, or my amazing clients, I am always learning. It is the most fulfilling career I could have ever hoped for, and I get to fulfill my goal of being a lifelong student.
How have things been going at the clinic since you arrived?
Working for CVN is the best decision I have made. The support and comradery in this company is far and above anything I have experienced thus far. My coworkers are truly experts in this field and I learn from their experience constantly. The leaders in offer continuous support and feedback that fosters this beautiful environment to work in.
Have you faced challenges so far in your time at the clinic?
It has been an adjustment to a whole different way of doing therapy. Comming from a residential background, I did not experience going virtual. I still drove to work each day.  It was a culture shift to then be virtual and seeing clients for one hour, once a week. Leaning on the vast experience the clinic has had this past year in providing counseling in a virtual setting allowed the adjustment to go smoothly overall.
What do you hope for clinic and your clients?
My hope for clients is easy. I hope for each person to find a better sense of self and have peace in their lives. I want the courage it takes to ask for help, to not be in vain, and for each individual to see their own potential. I can only hope that the clinic continues to offer the exemplary care I witness day in and day out. The care they give to clients and staff is just amazing to witness.
What do you like to do for fun?
I have several hobbies that I find joy in. I love art and dabble in painting, crochet, and photography. My husband and I love board games. I lost count at around 200 board games we own. The collection continues to grow constantly!
Favorite sports team?
It's got to be my New England Patriots!