Meet the Team – Caila Holm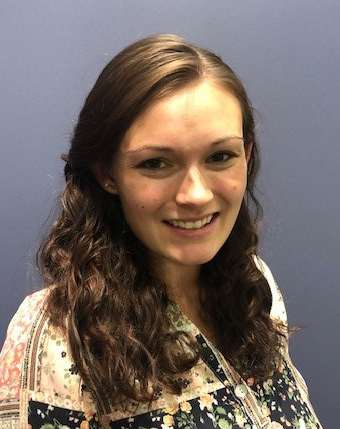 One thing is definite within the Steven A. Cohen Military Family Clinic at Centerstone – our team is a team. Each and every staff member not only plays a crucial role in accomplishing our mission to ensure our military families receive the care they've earned, but they do so from the heart and with a passion that can't help but to inspire. Here's a closer look at one such teammate, case manager, Caila Holm.
Tell me a little bit about yourself, such as where you grew up and your background leading up to joining CVN?
I grew-up in North Carolina and attended Appalachian State University where I studied Archaeology for my undergrad. I met my husband at App State, who signed his contract for Active Duty on the day of our first date. There often seems to be this trope of "you knew what you were getting into!" Well, I certainly didn't—I had no immediate connection to the military growing up, so I had no idea what life would be like. Life as a military spouse has taken me all over the world and allowed me such varied and rich experiences, all of which I bring with me to my work at CVN. I have worked and/or volunteered with CYS, SFL-TAP, on a New York University research project studying the Army Family Advocacy Program, the American Red Cross, ACS, several SFRGs, and so much more! Most of my adult life has been immersed in military culture, and I have developed such a love of working with this population.
I began my MSW program virtually in 2017 in between several back-to-back moves. After finally settling in Clarksville, I was over the moon to have been extended an offer to complete my final internship for my degree at the Cohen Clinic. I served in that role from Aug 2019-May 2020, when like most of us, I had to put aspects of my life on hold due to the pandemic. I returned as a Case Manager in May of 2021 and recently celebrated one year of being in this role.
You've taken life experience and built a career to help others, what was your greatest takeaway from this process?
My biggest take-away is how similar we all are. There is very little difference between the client and the therapist. Often I find myself joining with clients struggling with the same stressors or questions that I have encountered myself. It is very humbling and also validating to see how we collectively are not alone in our distress. There is no such thing as "crazy". We are all trying to navigate the same, albeit difficult at times, world.
How have things been going at the clinic since you arrived?
I feel so blessed to be able to start my clinical practice at the beginning of our CT3 grant. I came into this position loving work with children, and through exposure to and work with our amazing clinicians here, I have developed an awareness and passion for trauma treatment. To combine the two and embark on a journey treating children who have experienced trauma feels so very natural for me personally.
Though the clinical work is probably the most enjoyable part, my role is not entirely clinical. As a Case Manager, I also handle intakes, referrals out into the community for additional resources, developing relationships with these resources, the Nurturing Parenting group, and our partnership program with Harmony SEL. I love having such diverse work experiences—I get to do something different every day!
Have you faced challenges so far in your time at the clinic?
I am about to embark on a new journey and phase of my career. In accordance with Army life, just as I found my place and dream job, our family received orders to move. I am honored to have been invited to remain in my same position transitioned to a remote format. Navigating accomplishing all of my job duties, attending to my needs, and the needs of my clients from a completely different time zone is going to be quite the adjustment!
What do you hope for clinic and your clients?
I hope the clinic obtains everything it needs to continue doing the great work I see our staff doing every single day. As for my clients, they all have such varied needs, so I would simply say I wish "healing" for all my clients, in whatever form that takes.
What do you like to do for fun?
I play video games, watch TV, read books, hike, swim, kayak, run, do Pilates/yoga, and travel. Generally if I am outside, I am happy.
Favorite sports team?
App State Mountaineers!