Meet the Team: Carleigh Wilson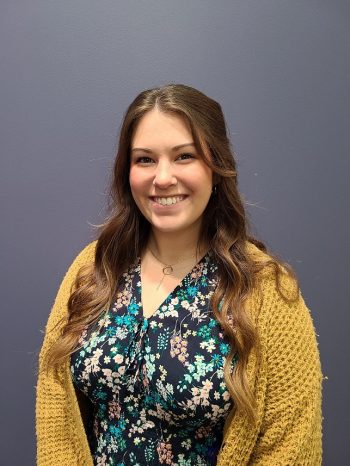 One thing is definite within the Steven A. Cohen Military Family Clinic at Centerstone – our team is a team.  Each and every staff member not only plays a crucial role in accomplishing our mission to ensure our military families receive the care they've earned, but they do so from the heart and with a passion that can't help but to inspire. Here's a closer look at one such teammate, office coordinator, Carleigh Wilson.
Tell me a little bit about yourself, such as where you grew up and your background leading up to joining CVN?
I was born and raised in Clarksville after my Dad joined the Army and met my mom here, in her home town. After graduating high school, I went to Austin Peay to pursue Social Work and graduated in 2021 with my Bachelor's Degree. This is my first big girl job, and I'm so happy to say it was a great decision.
You've taken life experience and built a career to help others, what was your greatest takeaway from this process?
My greatest take away from my time here at the clinic, is that even the slightest kindness can make an immense difference for so many people. Being the first smile they see, or the first kind voice they hear in the day, can not only make things a little brighter for them, but allow them to pass that kindness on to others.
How have things been going at the clinic since you arrived?
I think this clinic has been amazing from the start of my time here. We value our clients above all else, and provide them with the best care we possibly can. You don't see that very often anymore.
Have you faced challenges so far in your time at the clinic?
The biggest challenge I've faced at the clinic was actually starting my job. My first day was only two weeks after I graduated from college, and after being in school for the majority of my life up to that point, the real world seemed scary. However, everyone in this clinic made that transition so much easier. I was welcomed with open arms to a caring environment with my own team of cheerleaders.
What do you hope for clinic and your clients?
It's my hope that our clinic can be a safe space for our clients, a place they can find peace and kindness around every turn throughout their time here. We have already made such a difference for some many people, but I hope our clinic continues to do so for years to come.
What do you like to do for fun?
I love spending time with my family. I have two amazing nephews that make everything an adventure, so I spend as much time with them as I can.
Favorite sports team? I'm lame and don't watch sports……