Meet the Team: DeAndra Parker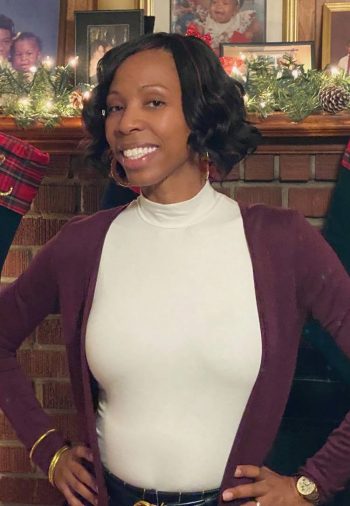 One thing is definite within the Steven A. Cohen Military Family Clinics at Centerstone – our team is a team.  Each and every staff member not only plays a crucial role in accomplishing our mission to ensure our military families receive the care they've earned, but they do so from the heart and with a passion that can't help but to inspire. Here's a closer look at one such teammate case manager, DeAndra Parker.
Tell me a little bit about yourself, such as where you grew up and your background leading up to joining CVN?
I was born and raised in Fayetteville, N.C. where I have resided for all of my life. I am the eldest of 2 children. My parents were both educators, my mother a kindergarten teacher and my father a college professor and football coach at Fayetteville State University. A great deal of my childhood memories include the time that I was able to spend learning from their example of teaching and empowering others. As a youth, I dedicated much of myself to music. I played piano, sang in both my school and church choirs, played violin for several local youth orchestras, and received the pleasure of serving as a violinist with the Fayetteville Symphony Orchestra for 4 years. Initially, I thought that performing and teaching music would be my calling. However, as I entered adulthood, my vision began to change. I married my husband who I have been friends with since high school, he joined the military, and we began raising our daughter, who is now 19 years old. As a mother and military spouse, I started to see things with a new perspective. As years went by, my experiences led me to continue my education, but instead of finishing my degree in music education, I chose to pursue a Bachelor's Degree in Psychology. While attending school, I was able to secure a position with Cape Fear Valley Health as a Patient Financial Services Representative. I maintained this role for a year before transitioning to The Steven A. Cohen Military Family Clinic at Cape Fear Valley before its opening in 2017. While serving the Cohen Clinic as a Patient Representative, I earned my Bachelor's Degree in Psychology from Fayetteville State University in 2018. This, in conjunction with my experience within the clinic, offered me the opportunity to move into my current role as Case Manager in 2019. I am currently looking forward to my ongoing role in case management with The Steven A. Cohen Military Family Clinic at Centerstone, while also pursuing my Master's Degree in Social Work. Upon completing my MSW Degree in May 2021, I will look forward to taking the next steps to become licensed within the clinic as well. I also hope to ultimately work towards incorporating music within my practice of therapy.
You've taken life experience and built a career to help others, what was your greatest takeaway from this process?
Throughout the process of building this career to help others, my greatest takeaway thus far is the importance of acknowledging an individual's hidden wounds. It is easy to look at a person and believe that their outside appearance is a representation of their experiences. A smile can often mask the pain that we don't know a person is feeling. Unlike a physical wound or scar that can be seen as evidence of pain once endured, emotional wounds are often invisible. We never know what a person is going through, or what they have been through. It is important to recognize that everyone has a story.
How have things been going at the clinic since you arrived?
Since I began with The Steven A. Cohen Military Family Clinic at Centerstone, things have been great! The kindness, compassion, and support shown by all of the Centerstone staff has been extremely helpful during this period of transition. I have learned a great deal of information already, and I am looking forward to continuing my journey as a case manager with Centerstone and Cohen Veterans Network!
Have you faced challenges so far in your time at the clinic?
So far after joining the Centerstone team, I am facing the challenge of working from home. I never thought that it would be difficult to adapt to being in the comfort of my home all day, but it is definitely taking some time to adjust. I didn't realize how programmed I was to being in my office where things were setup specifically for me to work. Having direct access to coworkers and other resources is something that I miss for sure.
What do you hope for clinic and your clients?
I am hopeful that the clinic will continue to provide exceptional services for our veterans and their families. Our clinics offer a place for veterans and their loved ones to be heard, feel supported, and become empowered. It is my hope while working with clients that I am able to encompass all of these qualities through the services that I am providing.
What do you like to do for fun?
For fun I enjoy so many things! These are at the top of my list: Spending time with family, playing games, binge watching television shows, movies, music, & traveling.
Favorite sports team?
As a N.C. native….Go Panthers!