Meet the Team: Deanna Iovino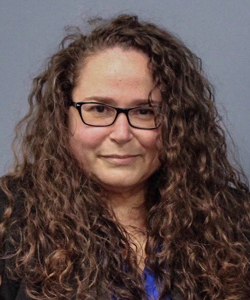 One thing is definite within the Steven A. Cohen Military Family Clinic at Centerstone – our team is a team.  Each and every staff member not only plays a crucial role in accomplishing our mission to ensure our military families receive the care they've earned, but they do so from the heart and with a passion that can't help but to inspire. Here's a closer look at one such teammate, Licensed Professional Counselor, Deanna Iovino.
Tell me a little bit about yourself, such as where you grew up and your background leading up to joining CVN?
I was born in Georgetown, Guyana (no, I'm not one of the Jonestown survivors) and moved to New York with my family as a teenager. I attended high school in NY, which was a total culture shock for a girl who spoke with a heavy Caribbean accent and wore a uniform her entire life. After graduation I enrolled in the local community college to pursue a degree in accounting. Three days after starting college I was in a car accident (I wasn't driving) and had to take a year off to heal. That sure gave me quite some time to think.  When I returned to college, I changed my focus to photography, which is what I really wanted to study originally, but my parents told me I would never make any money (I later learned I should listen to my parents).  I have been a photographer for about 30 years. Today, I do it more as a hobby, fun projects, or to help organizations I support. I got married and had two children, divorced, and now have two pretty awesome kids who would probably yell at me for still calling them kids (they're both over 18).
I returned to school after my kids started elementary school and was fully focused on getting my degree in criminal justice. I received my AA from FCCJ (now FSCJ) and then transitioned to University of North Florida where I earned my Bachelor of Arts in Criminal Justice and minor in psychology. While there, I ended up taking a psychology class that I loved, and I was hooked. Several years later, I received my Masters in Social Work from Florida State University. I worked as a therapist to families in the child welfare system where I provided counseling services to individuals, families, and groups who have experienced traumatic events in their lives. I loved what I was doing and enjoyed the people I worked with, but after 7 years, a friend contacted me and me about an open position at CVN. I applied and was offered the position. Part of some of the work I did before joining CVN was advocacy through various organizations, servicing as part of committees and being a board member of organizations to improve the mental and physical health care received by individuals in the LGBTQIA+ community. This remains a focus and passion today.
You've taken life experience and built a career to help others, what was your greatest takeaway from this process?
My greatest takeaway on this journey was that there is always something new to learn, experience, and pass along to others. Whether it is through knowledge, friendship, an offer to help, or a kind smile or word that may help to improve someone's day. I also learned that laughter is as necessary as air to get through the challenges we often face.
What do you hope for clinic and your clients?
I hope to see this clinic continue to grow and surpass goals so we can continue to provide service members, veterans and their families the opportunity to achieve their goals and thrive in their everyday lives. My primary goal for clients is for them to achieve functional success in their day to day lives, through their personal growth and development of positive relationships.
What do you like to do for fun?
For fun you can catch me shooting pictures at events or anything I find interesting. I enjoy painting, drives along the coast, baking, walking my dogs, trying new restaurants and spending time with my family and friends. I've also been known to binge watch a Netflix show every so often.
Favorite sports team?
There is nothing about me that screams sports. There are many sports I enjoy watching, however, I no longer hold strong ties to any one particular team. I usually root for the underdog. Though, I used to love the New England Patriots when I Lived in Connecticut, until they decided not to follow through with the deal to move to Connecticut. The Islanders and Rangers were also some of my older favorites. I probably have more favorite teams on NFL Blitz than in real life.