Meet the Team: Elizabeth Sherr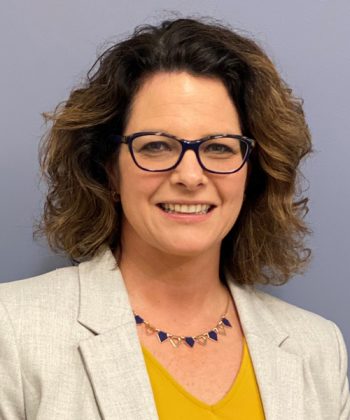 At the Steven A. Cohen Military Family Clinics at Centerstone our team is phenomenal. Each and every staff member not only plays a crucial role in accomplishing our mission to ensure our military families receive the care they've earned, but they do so from the heart and with a passion that can't help but to inspire. Here's a closer look at one such teammate- Army veteran and clinic director, Elizabeth Sherr.
Tell me a little bit about yourself, such as where you grew up and your background leading up to joining CVN?
I grew up in Massachusetts, I have a younger brother and two older brothers. I grew up in a small town just outside of the city of Boston. I played a lot of sports growing up. I played Varsity Soccer and my sophomore year of high school was a top ten ranked high school golfer in the state of Massachusetts. I was the only girl on my high school golf team. The school janitor took me to the state tournament that year. The boy's tournament was the same day so our coach went with him. He didn't place, I did. After high school I had a lot of options because of golf, but I chose the Army. My family was a bit indifferent to say the least. My dad had been in Vietnam so there were mixed emotions and fears about military service in the early 90's.
If a Veteran, can you tell me about your time in service?
I never planned on making it a career. There were so many ups and many downs, but I kept on going. I made the decision 5 years into my career to apply for Officer Candidate School. I was fortunate to lead hundreds upon hundreds of soldiers over my career and loved every minute of it (well most of it). Leading people was what I believe led me to a 20 year career. All three of my boys were born while I was in the army. When my oldest son decided to join the Army it was no surprise, he was born into the Army it was all he knew.
If a Veteran, what was it like returning to civilian life?
This was a lot harder than I had expected. The sense that I had lost my community was hard. I wasn't caught up in rank or status, but I truly felt lost. It was very strange, I had a hard time holding a conversation or feeling comfortable with people not associated with the military, I had no real hobbies. It was actually scary to be out on my "own". It took a serious skiing accident that made me realize I needed help managing the transition.
You've taken life experience and built a career to help others, what was your greatest takeaway from this process?
You are never alone. It is amazing to witness a Veteran who feels alone realize that they have a community waiting for them with open arms. This goes for families as well. Our time in service may end, but our community is still there. Have you ever witnessed two strangers who realize they both served? It is like watching long lost siblings reunite. They may never see each other again, but they will call each other "brother" or "sister" when they go their separate ways. You are never ever alone.
How have things been going at the clinic since you arrived?
We are finally back in the clinic! The clinic family is an incredibly talented group of professionals. I used the term "family" because that is what they are. Each brings a unique skill set with them and it is pretty magical when you step back and look at it all. Things have been going well and we are busy, all of our offices are occupied and that is a good thing. It means we are helping people in need.
Have you faced challenges so far in your time at the clinic?
COVID threw a big wrench in things when we opened in 2020, but we adapted and overcame the challenges. While the clinic is technically in its second year, it's more like our first year because we couldn't be in the actual clinic. We are looking forward to offering more workshops and groups.
What do you hope for clinic and your clients?
I want the clinic to be more than a place you go to for therapy. I want the clinic to be where you go for yoga, movie night, and wellness workshops and where veterans and families come to connect with others. I want it to be where other Veteran organizations collaborate and partner with the shared goal of helping our military community.
I want clients to feel comfortable and safe. I want them to feel like they are important and a priority (because they are nothing short of just that). I want us to be the first name people think of when a friend or family member is facing a challenge.
What do you like to do for fun?
I like photography. One of my boys plays competitive travel soccer and I spend a lot of time on the sidelines. I bring my camera and I take pictures of the boys in action. I have a lot of fun with it. I recently picked up surfing and love it. I meet with a group of Veterans monthly who surf area beaches in Northeast Florida. I love it because I am just Liz the Army Veteran and not Liz the therapist. It feels good and is healthy to have that anonymity.
Favorite sports team?
Before Leo Messi moved to Paris St Germaine, I am and have always been a big PSG fan. In June of 2022 I am going to Madrid to the Real Madrid Futbol Club training facilities and can't wait.