Meet the Team: Jason Leaverton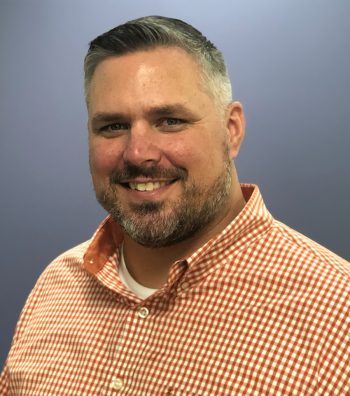 One thing is definite within the Steven A. Cohen Military Family Clinic at Centerstone – our team is a team. Each and every staff member not only plays a crucial role in accomplishing our mission to ensure our military families receive the care they've earned, but they do so from the heart and with a passion that can't help but to inspire. Here's a closer look at one such teammate: intake coordinator Jason Leaverton.
Tell us a little bit about yourself and your background leading up to joining the Cohen Clinic at Centerstone?
I was born in Fullerton, Calif., moved to Gig Harbor, Wash., at age 10. I was an only child with a single mother and times were hard sometimes. After high school, I worked random jobs and when I was 19, I realized I was going nowhere very fast. So I joined the Army as an 11B Infantryman. I met my wife and got married soon after getting to my first duty assignment at Ft. Campbell, Kent., and had a baby girl. I had a lot of great experiences in the Army. Three combat deployments to Iraq, two non-combat deployments, one to Kosovo and the other to Turkey. I did a lot of great training and served with a lot of great people. When my time in the Army was over I had to ask myself a question: "What now?" I knew I wanted to help people, and I had a passion for soldiers, veterans, and helping couples in distress. So I became a student at Trevecca Nazarene University where I got my Bachelors of Science in psychology, and a Master of Arts in clinical mental health counseling. I was hired as an intake coordinator at the Cohen Clinic at Centerstone in September 2019, but am working toward becoming a clinician so I can do the work I set out to do.
Tell us about your time in service?
My Army service is a huge part of who I am today. It shaped me and molded me when I needed that direction and accountability in my life.
What was it like returning to civilian life?
Getting out of the Army was a hard transition for me. I felt like I was flapping in the wind without purpose or direction. Even after I started school and began working toward my second career, I found times when I didn't feel important anymore. It took my family, friends, and brothers and sisters in arms to finally let me feel like what I did matters, and what I am working toward matters just as much.
You've taken life experience and built a career to help others, what was your greatest takeaway from this process?
My greatest takeaway from this journey was being able to identify points of connection in all people. No matter our differences, there are things that we all need, like love, acceptance, and validation.
What do you hope for the clinic and your clients?
I hope that this clinic continues to be a beacon of hope for Veterans, Service Members, and their families. This clinic has some very passionate people that want nothing more than to help people. I hope that light continues to burn bright and I hope that I get to be a part of it. I hope to see clients work hard and see positive results in their lives. It is a special moment to see a client that has been suffering begin to feel better and make progress toward their goals.
What do you like to do for fun?
I love woodworking. To my wife's credit, she has allowed me to turn our garage into a woodshop.
Favorite sports team?
Seattle Seahawks … GO HAWKS!