Meet the Team: Kendra Lee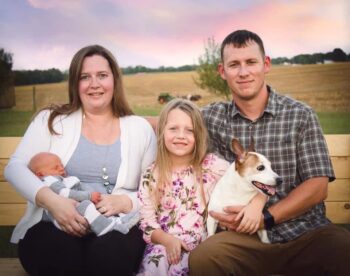 One thing is definite within the Steven A. Cohen Military Family Clinic at Centerstone – our team is a team.  Each and every staff member not only plays a crucial role in accomplishing our mission to ensure our military families receive the care they've earned, but they do so from the heart and with a passion that can't help but to inspire. Here's a closer look at one such teammate, intake coordination, Kendra Lee.
Tell me a little bit about yourself, such as where you grew up and your background leading up to joining CVN?
I am from Moorefield, West Virginia. I have been married to my husband Andrew for 12 years and have 2 children Kaitlyn (7) and Adam (18 months). I also have a Jack Russell Terrier, Chester who is 14. I have both my bachelor's and master's degrees in social work that have allowed me to support victims of domestic violence and sexual assault for the past eight years prior to joining the Centerstone team.
You've taken life experience and built a career to help others, what was your greatest takeaway from this process?
I love being able to tell people PTSD does not define them and to remind them they are not broken; that this was something that developed out of survival mode. It is humbling to watch a client's burdens ease as they hear this.
How have things been going at the clinic since you arrived?
Great! I come from mainly working on bases and at a few nonprofits and this is by far the best work family I have ever had. The human capital in this clinic is priceless. There is so much knowledge and respect here, and you feel supported the whole staff. I have enjoyed all the training opportunities and time I get for trainings.
Have you faced challenges so far in your time at the clinic?
I believe we can all relate to how the pandemic has brought about unique challenges. This time has been unique, although still a valuable learning experience.
What do you hope for the clinic and your clients?
Simply put, I hope for us all to provide care, that allows clients to feel heard and validated as they meet their goals.
What do you like to do for fun?
I love to watch reality TV shows. I am hooked on all the real housewives shows, below deck, also Vanderpump Rules. I also love to cook for a lot of people. I grew up having family dinners at my grandmothers on Sundays. These dinners included about 60 people each time. For me now, continuing this tradition is something that reminds me of home and family. Lastly, I am a Jeep lover, so driving around without the top when the weather is about 70 degrees is a favorite pastime.
Favorite sports team?
WVU. There are no professional teams in my home state so I mainly have loyalty to my college teams. However, I was very much in love with Payton Manning when he was playing football.