Meet the Team: Kenya Forbes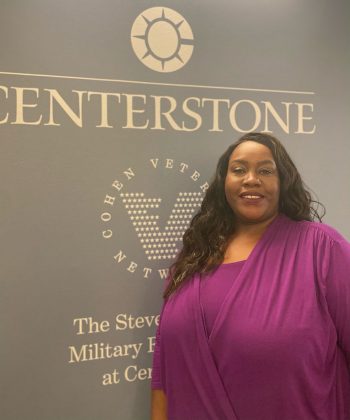 At the Steven A. Cohen Military Family Clinic at Centerstone in Fayetteville our team is phenomenal. Every staff member plays a critical role in accomplishing our mission—to ensure our clients receive the care they've earned. Our team carries out this mission with passion that inspires. Here's a closer look at one such teammate, Kenya Forbes, Office Coordinator.
Tell me a little bit about yourself, such as where you grew up and your background leading up to joining CVN?
I am from Fayetteville NC. My background in health care started when I became a certified nursing assistant (CNA). My daughter got sick, and I had to drop out of nursing school. While working as a CNA, I got the opportunity to see the administrative side of things as a unit secretary. I worked at Carolina Outreach on the administrative team for six years before joining the Cohen Clinic.
You've taken life experience and built a career to help other. What was your greatest takeaway from this process?
My greatest takeaway has been watching the difference therapy can make in a person's life. It's beautiful to watch the change in a person.
How have things been going at the clinic since you arrived?
Amazing. We have such a strong team, and we all work so well together! I have never worked with such an amazing group of people.
Have you faced challenges so far in your time at the clinic?
Yes, we did a complete system change a few months after I started and had just learned one system. I think we all learned very quickly and made the best of it together!
What do you hope for clinic and your clients?
I hope we continue to grow and stay on the positive path I've witnessed since working here.
What do you like to do for fun?
I like to go to the movies! I love a good horror movie!
Favorite sports team?
Tar heels! "The sky is Carolina Blue!"