Meet the Team: Marfa Nicanor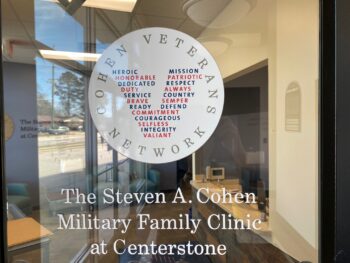 At the Steven A. Cohen Military Family Clinics at Centerstone our team is phenomenal. Each and every staff member not only plays a crucial role in accomplishing our mission to ensure our military families receive the care they've earned, but they do so from the heart and with a passion that can't help but to inspire. Here's a closer look at one such teammate therapist, Marfa Nicanor, MSW, LCSW-A.
Tell me a little bit about yourself, such as where you grew up and your background leading up to joining Cohen Veterans Network (CVN)?
I was born in the Dominican Republic, Santo Domingo, and moved to Miami, Fla. at eight years old. I lived in Miami until I married a soldier at the age of 19. My ex-husband and I moved to Fayetteville, N.C. (Airborne!), and it was the start of a rough newlywed year. I worked in a grocery store as a cashier and later for a group home that assisted individuals with intellectual disabilities.
After three years of marriage, we welcomed our son. Four years later, our daughter was born. I worked for a tax company for several years before deciding to get my bachelor's degree in Psychology from Campbell University. I earned my master's degree in Social Work while completing my internship at the Cohen Clinic in Fayetteville. After graduating in May of 2020, I applied for a CVN fellowship. I was awarded the fellowship this past summer. I will have the opportunity to earn my clinical hours working with the military population. I hope to obtain my LCSW license by 2022 while remaining a part of this fantastic team.
You've taken life experience and built a career to help others, what was your greatest takeaway from this process?
The most significant takeaway from this process is the gratification that comes from helping clients achieve their greatest potential.
How have things been going at the clinic since you arrived?
Since arriving at the Cohen Clinic at Centerstone, I've learned the definition of what it is like to be part of a team. The organizational culture is one of support and openness.
Have you faced challenges so far in your time at the clinic?
My biggest challenge, so far, has been working from home. Balancing work and self-care has been a challenge for many, and it has been hard for me to adjust these past few months. I am the type of person who thrives from human interaction and learns from others through constructive conversations. I am glad that clinic staff are transitioning back to the clinic and look forward to face-to-face collaboration with my coworkers and, eventually, clients.
What do you hope for the clinic and your clients?
My hope for the clinic is to continue to serve our military families and veterans with the quality of care they need and deserve. I hope my clients can receive all the resources and tools they need to make effective change in their lives and to learn to build on those skills and develop self-determination while maintaining emotional safety.
What do you like to do for fun?
I like to spend time with family and loved ones and watch movies. I miss going to the movie theaters.
Favorite sports team?
My favorite sports team is the Carolina Panthers. Go Panthers!