Meet the Team: Matt Turner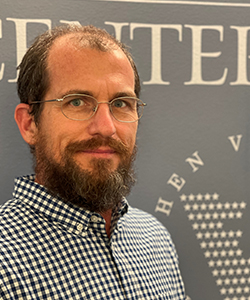 One thing is definite within the Steven A. Cohen Military Family Clinic at Centerstone – our team is a team. Each and every staff member not only plays a crucial role in accomplishing our mission to ensure our military families receive the care they've earned, but they do so from the heart and with a passion that can't help but to inspire. Here's a closer look at one such teammate, therapist, Matt Turner.
I was born and raised in a small town in the Appalachian Mountains called Boone.  It is known as a hub for local skiing, hiking, biking and a destination for vacationers year round. It is also home to Appalachian State University.  Growing up there, I developed a love for anything and everything outdoors including: skiing, hiking, camping, canoeing and biking.  I later moved to Wilmington, NC where I attended UNCW.  While there, I was introduced to and fell in love with scuba diving and was lucky enough to actually spend time working on a dive charter vessel.
I have continued to regularly engage in these activities throughout life, and most weekends I can be found either in the woods or near or under the water. Other hobbies include gardening-flowers especially and cooking or baking. 
I realized many years ago that I was drawn to service and passionate about helping others.  I first cultivated this through volunteering, in either community or school endeavors when my kids were school-aged.  I soon realized that this drive was what I wanted to pursue academically, as I came across social work. I earned an MSW from the University of Michigan and began my social work career working with children with trauma histories. Before arriving at the Steven A Cohen Military Clinic in Fayetteville, over three years ago, I had worked in both inpatient and outpatient settings, with a continued focus on trauma.
I love our clinic and the work we do supporting military members and their families. In fact, I feel like I have waited my entire life for a job like this. Therapy is so many different things simultaneously, and that journey is uniquely different for each individual.  As a therapist, I feel like my greatest responsibility is to help each individual recognize their own capacity for change and help them celebrate successes. I feel privileged to share in this journey with our clients.
My belief is that our clinic will continue to positively impact the military community we serve through a variety of services, on site, off site and services offered virtually.  I also expect that we will continue to expand the services that we provide to include more groups, which will serve adults, couples and adolescents.  Our clinic will continue to form relationships through community engagement and truly become a hub for services/activities to support the military community.
In my spare time I like to spend time with my wife and children (even though time with them is less frequent, as they are adults) or engaged in any number of hobbies.