Meet the Team: Megan Simental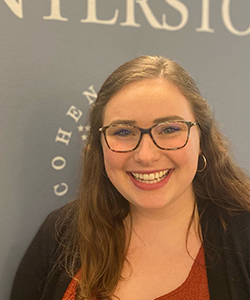 At the Steven A. Cohen Military Family Clinic at Centerstone in Fayetteville our team is phenomenal. Every staff member plays a critical role in accomplishing our mission—to ensure our clients receive the care they've earned. Our team carries out this mission with passion that inspires. Here's a closer look at one such teammate, Megan Simental, MSW, LCSWA, Intake Coordinator.
Tell me a little bit about yourself, such as where you grew up and your background leading up to joining CVN?
I was born and raised in Washington State and stayed there throughout high school and my undergraduate program at Washington State University. Go Cougs! I was pursuing a state specific certification in Washington when I came to the realization that marrying someone who was enlisting in the Army most likely meant moving to multiple states.
At that point, I realized I needed to adapt my career. I investigated different career options but knew that being in the mental health field was where I was supposed to be. I enrolled in an online social work program and began classes the day I moved into our new apartment in North Carolina! I graduated with my master's degree in Social Work in May 2021 and consider myself so lucky to have found an opportunity to work at the Steven A. Cohen Military Family Clinic at Centerstone here in Fayetteville.
You've taken life experience and built a career to help other. What was your greatest takeaway from this process?
I think the biggest takeaway for me is that every person has different life experiences and has learned different things along their journey. I realized that as much as I am using my life experiences in this career to help others, I am also learning so much from each person I interact. This makes me better at what I do each day.
How have things been going at the clinic since you arrived?
I can honestly say I feel like I hit the jackpot by accepting a position here at the Cohen Clinic. The clinic's organization and structured services have given me the opportunity to focus on my professional development. Additionally, there are numerous opportunities to participate in trainings and further my education, which has been so valuable as I find my "sweet spot" in this field and the specific population and approach that I am passionate about. The clinic team has been very encouraging and willing to share their wealth of knowledge.
Have you faced challenges so far in your time at the clinic?
One of the challenges I have faced at the clinic is just feeling confident in the beginning of my process of entering the world of social work profession as a new graduate. The team is so insightful with their experiences in the field. I am now in the process of building my own clinical experiences that are going to guide me to do the best work that I can.
What do you hope for clinic and your clients?
My hope for the clinic and my clients is to continue to build confidence. Confidence for the clinic may look like making new partnerships in the community, committing to new processes in the office to aid in smoother sailing in the future, such as Cerner, and even confidence to grow as a team together. For my clients may, I hope they have the confidence to make big and small breakthroughs to help them become the best versions of themselves.
What do you like to do for fun?
My spare time is often filled with either learning about new food, baking, or cooking recipes or putting it into action and trying them out. I am a huge Food Network fan and if I come across something that looks interesting and exciting, I'll try it out. If successful, I'll add that recipe card to my collection!
Favorite sports team?
Recently, I have connected back with my roots and been fully supporting the Seattle Mariners! They had an exciting season and almost made the playoffs. Go M's!