Meet the Team: Melissa Frost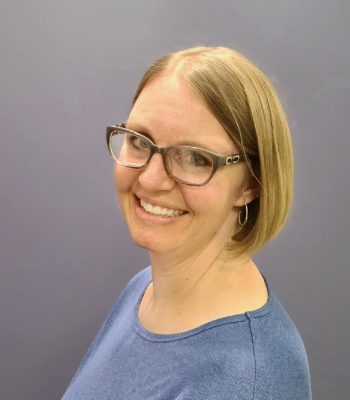 One thing is definite within the Steven A. Cohen Military Family Clinic at Centerstone – our team is a team. Each and every staff member not only plays a crucial role in accomplishing our mission to ensure our military families receive the care they've earned, but they do so from the heart and with a passion that can't help but to inspire. Here's a closer look at one such teammate, therapist, Melissa Frost.
Tell me a little bit about yourself, such as where you grew up and your background leading up to joining CVN?
I was born in Ann Arbor, MI and moved around a lot as a young child and went to 5 different elementary schools. I'm from a blended family with 5 kids and I am the second oldest. I have always been a strong-willed individual and independent in most things I try to do in life. I met my husband at 19 years old on a blind date and…the rest is history. I followed him to his campus at Olivet College in Olivet, MI and graduated with a Bachelor's in Biology in 2002. We have been married for just shy of 23 years and have 6 full biological children (yes, I naturally delivered each one). My husband is an active-duty service member of the Army for over 20 years and will soon begin retirement processes in the near future. Growing up and moving around really prepared me for the PCS cycles and changes of locations through these active-duty years. I have always had a heart to serve and was blessed to have the choice to remain home and nurture our gaggle of children for 15 years. I sought after how to serve outside the family and found my passion and calling in therapy. If I was created for anything other than motherhood, it was this profession! I absolutely am inspired every day at the courage and willingness of others "light bulbs" going on for them in their lives and the positive impacts they create. My husband was able to stabilize in Fort Sill, OK so I could finish my masters (in Marriage and Family Therapy) and candidacy in one state. I have had experience in CMHC working with SA and rehab clients, inpatient work at a behavioral health facility, and outpatient services.
You've taken life experience and built a career to help others, what was your greatest takeaway from this process?
My greatest takeaway from this process is the grounded benefit of doing your own personal internal work and understanding yourself deeply and the authenticity of self it creates in assisting others through their processing journey.
How have things been going at the clinic since you arrived?
I have been at the clinic for a little over 6 months now. My time at the clinic has been one of constant training and learning. As I enjoy the process of learning, I am thankful I am through the Cerner woes that were evident in the beginning. Each clinician has been so open, supportive, and friendly. I really enjoy working here and look forward to the future at this clinic.
Have you faced challenges so far in your time at the clinic?
Other than the typical caseload tightrope, the only other challenges that pops into my mind would be that of my natural independence pushing against the concept of agency-focused policies and agendas, but that's not a CVN-specific construct. I've been confronted with that in each place I have worked thus far.
What do you hope for clinic and your clients?
For the clinic, I hope it continues to thrive and grow in its effect on the community as a whole. For my clients, I hope for peace that they receive through the process of understanding themselves at a deeper level, their experiences, and for hope to be instilled through their time stepping into this building that things don't have to stay the way they are right now. Change is possible and it can feel good.
What do you like to do for fun?
I enjoy spending time alone, listening to the sound of my fountain on my screened-in porch on a nice day, engaging with my family in activities and games, having new adventures/experiences, and stealing time away with my best friend, my husband.
Favorite sports team?
University of Michigan Wolverines (football mostly, but we support every wolverine sport)