Meet the Team: Melody Shipley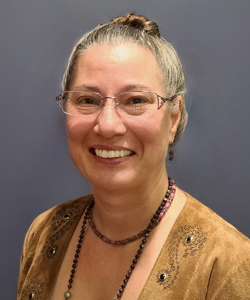 One thing is definite within the Steven A. Cohen Military Family Clinic at Centerstone – our team is a team. Each and every staff member not only plays a crucial role in accomplishing our mission to ensure our military families receive the care they've earned, but they do so from the heart and with a passion that can't help but to inspire. Here's a closer look at one such teammate.
Tell me a little bit about yourself, such as where you grew up and your background leading up to joining CVN?
I was born in Camden, TN and grew up in middle Tennessee where I lived with my brother and mother. I graduated with a Bachelor of Fine Arts degree from Austin Peay State University in 1996, and moved back to the Nashville area after graduation. I worked in retail and customer service jobs for about six years and then moved to Clarksville to focus more on my career as an artist. I met and married my husband and we had a daughter in 2004. I started working in administration at APSU and teaching pottery lessons through the Community School for the Arts at APSU in 2006. In 2015 I had a horseback riding accident which really affected my ability to create my artwork and I was unsure if I would be able to continue to make pottery. I really enjoyed teaching my classes and many of my students talked about them as their therapy for the week, so I decided to go back to school for counseling. In 2019 I graduated with my Master's Degree in Clinical Mental Health Counseling, and in early 2022 I became a fully licensed counselor. I worked in private practice through practicum, internship and the licensure process and realized my passion for working with the military and their families. I began working at the Cohen Clinic in October 2022 as a licensed clinician and feel very much at home here. I am also still very much involved in making artwork and continue to teach pottery lessons.
If a Veteran, can you tell me about your time in service?
In 1999, I joined the Army National Guard Reserves. I went through basic training and had started OCS and got injured, so had to separate from service.
If a Veteran, what was it like returning to civilian life?
It was a strange transition for me because the longest I was actually active duty was during basic training. When I graduated from basic training, I went back to my civilian life but was still doing pushups every chance I got to keep up in OCS on those weekends. Then I had to separate due to injury and went through a lot of thoughts and emotions dealing with worth at that point in time.
You've taken life experience and built a career to help others, what was your greatest takeaway from this process?
Therapy can be important and useful for anyone and everyone. One of my greatest lessons learned from life experience is whether we are an introvert or extrovert and whatever our life experiences, we are still social creatures and need connections with others. Therapy can help us with creating and strengthening those connections.
How have things been going at the clinic since you arrived?
I feel very much at home at the clinic. The transition from private practice to the clinic had its challenges, as every change does, but I really love working here.
What do you hope for clinic and your clients?
My hope for the clinic and my clients is that the clinic continues to be a valuable resource for forward progress for our clients. There are so many opportunities to engage with the clinic whether it's individual, couples, family or group therapy as well as all of the community events that are sponsored by the clinic, like family movie night and art programs.
What do you like to do for fun?
I really love to be outside. I love hiking, gardening, backpacking, and just enjoying nature. I also really love reading. I'm very involved in my art career.
Favorite sports team?
I don't really follow sports, but am looking forward to the kitten races at the carnival on the 22nd!