Meet the Team: Patience Thomas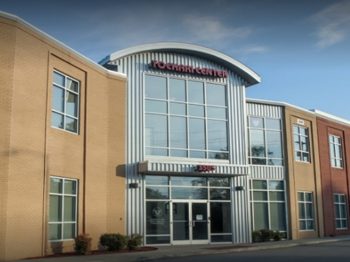 At the Steven A. Cohen Military Family Clinic at Centerstone in Fayetteville our team is phenomenal. Every staff member plays a critical role in accomplishing our mission—to ensure our clients receive the care they've earned. Our team carries out this mission with a passion that inspires. Here's a closer look at one such teammate, Patience Thomas, MSW, LCSW, Clinician.
Tell me a little bit about yourself, such as where you grew up and your background leading up to joining CVN?
Growing up my father was in the Army. I was born here in Fayetteville, N.C. then we moved around for a few years and ended up stationed here at Fort Bragg again when my father was preparing for retirement. My experience in a military family developed my passion for serving the military community. This, coupled with my love and passion for mental health, drove me to go to school to pursue helping our military and families improve their mental health.
You've taken life experience and built a career to help others. What was your greatest takeaway from this process?
Mental health difficulties are nothing to be ashamed of. Our society is becoming more accepting of mental health challenges and this makes me very happy. For a long time people were made to feel ashamed for not being perfectly happy in life and for struggling with their mental health. However, everyone struggles at some point in their life. It is okay to not be okay, we must take the necessary steps to not stay in that place. Ask for help. You are worth it.
How have things been going at the clinic since you arrived?
I joined the clinic in August and have enjoyed my time here so far. The staff is friendly and always willing to help, and the clients are wonderful. Both have made my experience greater than I imagined.
Have you faced challenges so far in your time at the clinic?
I have faced many challenges so far while working here, including learning an old documenting system at the same time as I learned the new documenting system. I have already grown tremendously in my therapeutic techniques and interventions, which added an amount of challenge I had never experienced before. All of this has kept me on my toes and in a growth mindset. I cannot wait to see the challenges ahead and how I will grow as a person and therapist.
What do you hope for the clinic and your clients?
I hope to be here at this clinic for a long time and to truly make an impact in as many clients' lives as I can so that I may give back to a community that has given so much of themselves for our country.
What do you like to do for fun?
I have a toddler daughter, so she keeps me busy. I love spending time with her and my husband at home or out doing different activities.
Favorite sports team?
I am not a huge sports fan but have always rooted for the Dallas Cowboys since living in Texas and growing up with a Texan as a father.