Meet the Team: Rachel Dibbins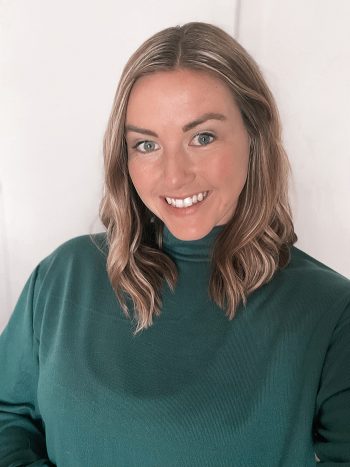 At the Steven A. Cohen Military Family Clinic at Centerstone in Fayetteville, our team is phenomenal. Every staff member plays a critical role in accomplishing our mission—to ensure our clients receive the care they've earned. Our team carries out this mission with passion that inspires. Here's a closer look at one such teammate, Rachel Dibbins, Fellow.
Tell me a little bit about yourself, such as where you grew up and your background leading up to joining CVN?
I was born and raised in sunny Oceanside, California. Growing up in a heavily populated military city greatly influenced my passion and desire to serve service members and their families. I played tennis throughout high school and was fortunate enough to gain a scholarship to play division two tennis at Northwest Missouri State University.
After playing for two years, I felt myself being called away from athletics and towards service. I enlisted in the Army National Guard my junior year of college and was able to obtain a bachelor's degree in Psychology with a minor in Military Science.
Shortly after graduating I became a case manager at a Forensic Psychiatric Center. I loved the challenges of connecting patients to their families and working in small clinical capacities teaching groups but also knew I wanted to further my education as a social worker after being inspired by several of the women I worked with.
I moved to Tennessee in 2019 to attend the University of Tennessee where I had the distinct privilege of being an intern at The Steven A. Cohen Military Family Clinic at Centerstone in Clarksville. The incredible team in Clarksville continued to help me develop my clinical skills but, more importantly, instilled in me an even greater passion for the profession and the population that we have the honor of working alongside each day.
In the midst of earning my master's in social work, my National Guard unit received mobilization orders for a deployment. I quickly finished my clinical internship in Clarksville and graduated while serving in the Middle East.
As I transition back to civilian life, I feel honored to have been chosen as a Cohen Fellow and can't imagine a more supportive environment for this life change. I am so fortunate to be with the Cohen Clinic again and cannot wait to learn from and alongside the Fayetteville Team.
You've taken life experience and built a career to help others. What was your greatest takeaway from this process?
The military has unique demands of all its service members. Those demands impact each of us so differently, and often the support we need isn't available or the stigma against receiving support is so strong that we do not seek it.
My greatest takeaway personally and professionally is that although these demands and struggles are often heavy, they also create an incredible resilience that can be drawn upon in the healing process. Maya Angelou said, "I can be changed by what happens to me, but I refuse to be reduced by it." This is my biggest takeaway.
How have things been going at the clinic since you arrived?
The Team is full of energy, passion, and has welcomed me with open arms. I am eager to start seeing clients again and learn as much as possible from those around me within the coming weeks.
Have you faced challenges so far in your time at the clinic?
As a virtual fellow working with clinicians who see each other day to day, my greatest challenge is staying engaged within the team and ensuring I reach out for the support I need. As an intern who started during COVID, I had to learn to advocate for my needs at a distance and this is a skill I will have to be diligent in utilizing while I work within a telehealth model.
What do you hope for the clinic and your clients?
My hope for the clinic is that we continue to fulfill the mission of bridging any gaps in mental health services for active-duty service members, reservists, veterans, and their families. My hope for my clients is to work as a team to champion their unique strengths and walk beside them while they face challenges.
What do you like to do for fun?
I have a Great Dane/ Shepard rescue dog who I enjoy obnoxiously posting about on any form of social media I have (she really is that cute). I am a huge foodie and love trying new places to eat. Working out, being with my people, and watching terrible TLC shows are some of my favorite past times.
Favorite sports team?
I just hope both teams have fun.