Meet the Team: Rachel Wolff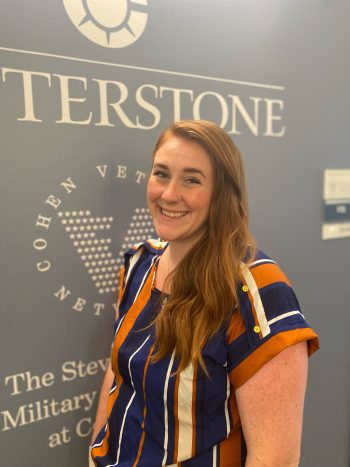 At the Steven A. Cohen Military Family Clinic at Centerstone in Fayetteville our team is phenomenal. Every staff member plays a critical role in accomplishing our mission—to ensure our military families receive the care they've earned. Our team carries out this mission with passion that inspires. Here's a closer look at one such teammate, Rachel Wolff, Office Coordinator.
Tell me a little bit about yourself, such as where you grew up and your background leading up to joining CVN?
I grew up in Colorado Springs, Colo. and spent almost my entire life there until recently! Before moving to North Carolina, I owned my own Salon in the springs and love and miss my clients! When we moved to North Carolina, it was in the middle of the pandemic last year, and I could not transfer my licenses, so I did some soul searching and decided to go back to school for psychology. I have to give a HUGE shoutout to Shanon Moore, who was the first person I met here in Fayetteville and a big reason I have this job! I am so glad to be here working with military and their families making sure everyone gets equal and well-deserved care!
You've taken life experience and built a career to help others, what was your greatest takeaway from this process?
Working for Cohen Veterans Network has really opened my eyes to all the organizations that are out there to help our nation's heroes, and it feels really good to be here helping people take care of their mental health! People are so appreciative of what this organization does, and it really is amazing to get to witness it firsthand!
How have things been going at the clinic since you arrived?
At first, it was a big rush to learn an all-new career because I came into this having no office background. But now that I am settling into my responsibilities, it's been great at the clinic. I truly like everyone I work with!
Have you faced challenges so far in your time at the clinic?
The biggest challenge I have faced so far in the clinic is crisis calls. I don't ever feel prepared, but everyone has assured me that that can be the general feeling everyone has at the start of most crisis calls. I appreciate the resources everyone has come up with to help me feel a bit more prepared when taking those calls!
What do you hope for the clinic and your clients?
My biggest hope is that at the end of my schooling, this can really be a foot in the door to the career path I'd like to be in! I would love nothing more than to continue with this organization in the future. As for the clients, my hope is that they feel accepted and comfortable with each interaction they have with not just me but anyone in the clinic. I hope to always provide a safe and comfortable place for every person that calls, comes in or even meets via telehealth!
What do you like to do for fun?
Family time is fun time for me! We like to camp (although we haven't really been camping since we moved here), and now we are finding that we like to get out and explore North Carolina!
Favorite sports team?
Colorado Avalanche (Hockey)