Meet the Team: Steven Sellars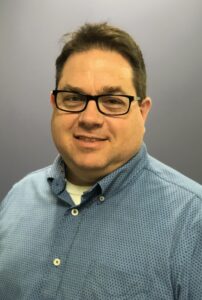 One thing is definite within the Steven A. Cohen Military Family Clinic at Centerstone – our team is a team. Each and every staff member not only plays a crucial role in accomplishing our mission to ensure our military families receive the care they've earned, but they do so from the heart and with a passion that can't help but to inspire. Here's a closer look at one such teammate, our very own pirate if you will (trust us he makes a great pirate, but that's a story for another newsletter) and Licensed Professional Counselor, Steven Sellars.
Tell me a little bit about yourself, such as where you grew up and your background leading up to joining CVN?
I definitely didn't start off in life knowing I wanted to be a counselor. I was born and raised in Zephyrhills, FL. I had no intentions of going to college until I was forced. When I finally did, I chose a bachelor's degree in music with a church and educational emphasis. I became a music guy in churches for a while, then eventually went on to working in a car dealership in Ashland City and joined the Fire Department in 2000. When I became a firefighter I recognized that my talent for helping people was growing. I often comforted and counseled folks dealing with crisis and loss both in the department and the church. I leaned into more pastoral roles and into the mental health side of trauma. I became very good at dealing with the bad stuff in my community and others. I got connected with Centerstone as a CISM peer support specialist and went all over the area assisting first responders. It was my Chief that told me I need to get a masters in counseling. The Fire Department paid for about 30% of my schooling. I found my way through the program and felt so affirmed. I was good at dealing with the combat vets coming home to be first responders. I created a relationship between Trevecca and the Nashville Vet Center. I joined Centerstone in 2012, working in and supervising school based therapy. When I learned of the Cohen Clinic at Centerstone I was curious, and eager to help our military families.  So here I am!
You've taken life experience and built a career to help others, what was your greatest takeaway from this process?
As a former first responder, I have been through so many significant end-of-life events with people, with firefighters & first responders, several near death experiences and have developed some skills to manage the emotional toll, grief, loss, anxiety and depression that follows.
How have things been going at the clinic since you arrived?
Pretty awesome. I am surrounded by so many wonderful and extremely talented professionals, I feel like a bag of chips in a caviar world.
Have you faced challenges so far in your time at the clinic?
I am surrounded by extremely talented professionals who have a richer vocabulary and knowledge. I play with Legos and dress like a pirate. My biggest challenge was learning new skills and training.
What do you hope for clinic and your clients?
My hope is that everyone that comes through the door believes they are important. Their issues are important. They are cared for and they are a genuine partner in this journey.  While we were in the clinic, a friend of one of my adolescent clients was waiting. Unbeknownst to me she had just had a very bad morning dealing with something which left her with little self-value. My heart went out to her and I shared a little pirate therapy with her in a brief moment. This moment was very defining for her and a message she evidently needed. The pre-COVID hug and brief sobbing was very affirming for her. She will never forget that. Neither will I.
What do you like to do for fun?
My favorite times are when I am doing things with my family. Cooking meals, smoking and grilling meat. Travel, beaches, random pirate stuff.
Favorite sports team?
The Florida Gators and Tampa Bay Buccaneers.