Meet the Team: Venee Hummel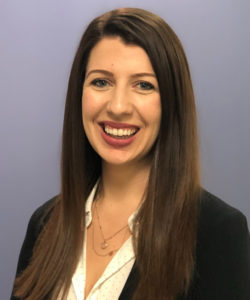 Meet the Team: Venee Hummel
One thing is definite within the Steven A. Cohen Military Family Clinics at Centerstone – our team is a team.  Each and every staff member not only plays a crucial role in accomplishing our mission to ensure our military families receive the care they've earned, but they do so from the heart and with a passion that can't help but to inspire. Here's a closer look at one such teammate therapist, Venee Hummel.
Tell me a little bit about yourself, such as where you grew up and your background leading up to joining CVN?
I'm a proud Army Brat and did most of my growing up in my mom's hometown in Germany, where my parents met. I had the privilege of living there twice, for a total of 11 years. We also lived in Texas and California. I went on to attend Baylor University for both my undergraduate and graduate studies; I've continued on with Baylor as an adjunct instructor for the School of Social Work's graduate program for almost five years.
I always knew that I wanted to serve the military community; my fifth grade yearbook has me quoted as saying my career goal was: "to work with the Army." I chose social work because it would allow me to serve Service Members, Veterans, and military families clinically in a variety of settings while being rooted in social justice and valuing the inherent dignity and worth of each person. I was fortunate to complete my clinical supervision as part of a fellowship at the University of Texas Health Science Center at San Antonio as a research therapist for STRONG STAR and the Consortium to Alleviate PTSD at Fort Hood, Texas. There I received supervision and consultation from the nation's experts on trauma, suicide prevention, and family resilience during deployment, while providing therapy to active duty service members who were participants in clinical trials studying the outcomes of evidence-based treatment for PTSD and related disorders. Once I completed that fellowship, I took a position with another clinic in the CVN network that was in the process of opening in Killeen, Texas. Not only is the Cohen Veterans Network an incredible nationwide mental health network for Veterans and their families, it's an incredible answer for those of us who are employees and military-connected ourselves. When Army life brought me to the Fort Campbell area in 2019, I was able to join this outstanding team here in Clarksville and continue serving within CVN.
You've taken life experience and built a career to help others, what was your greatest takeaway from this process?
This work is sacred. I regularly reflect on the great honor it is to hold space with individuals, often centered on the worst day or periods of their lives. I am fired up about helping people restore their well-being, heal to the point of remission, and live the life they value for themselves. The greatest part of this service is witnessing people go beyond coping with trauma, anxiety, stress, depression, and the like; witnessing people heal from those challenges. Healing is not only possible, it is attainable.
How have things been going at the clinic since you arrived?
The clinic in Clarksville and within the Centerstone family of Cohen Military Family Clinics is a dream. Truly. It is such a privilege to work alongside passionate colleagues who share in the same mission and sense of personal dedication. As a clinician, I'm fortunate to be surrounded by other therapists with a variety of training, expertise, and approaches to treatment – that kind of diversity is important in our work. And the leadership that guides us truly cares about both the clients we serve and the team on the front line of this clinic.
Have you faced challenges so far in your time at the clinic?
The year is 2020 and the challenges are plenty. This is a hard year for everyone on personal and professional levels. While our clinic has been providing telehealth long before a pandemic arrived, nothing could have prepared me for nine months of working out of my tiny guest bedroom. As an extrovert, I deeply miss the hustle and bustle of the clinic hallways, physically sitting across from my clients, and sharing space with other humans. However, I always believed that while telehealth is different, it is capable of delivering the same high-quality outcomes. It is still a vehicle to promote change and healing. And from the cramped guest bedroom that's been my reality, I now have so much telehealth experience that I can firmly say I do not only believe – I know that healing is attainable over Zoom.
What do you hope for clinic and your clients?
My dreamiest of dreams is that I work myself out of a job. I hold that mentality every day; I want my clients to knock out the roots of their challenges and learn the skills they need so that they don't need me or our services. I also hope that in 2021 a time comes when it is responsible to return to the clinic and for our services that are less translatable to Zoom to resume (such as all of the fantastic events and groups we traditionally hold in our community room).
What do you like to do for fun?
I enjoy being physically active, however there are plenty of slumps where the weighted blanket on the couch and a new season of a favorite show on Netflix challenge my discipline. I'm very much into board games and miss hosting game nights with friends. I hoard time off so that I can travel once or twice a year for longer than a weekend. At the core of it, I get so much joy when I'm surrounded by my tribe of favorite people no matter the activity.
Favorite sports team?
My dad is from Pittsburgh so I was raised with clear instructions: "We support two teams in this family: the Steelers and whoever is playing the Cowboys that week." I also really love Baylor's Lady Bear Basketball team. However to be honest, I barely watch sports anymore so I won't pretend to know much anymore about rosters and stats.