Meet the Team: Victoria Mans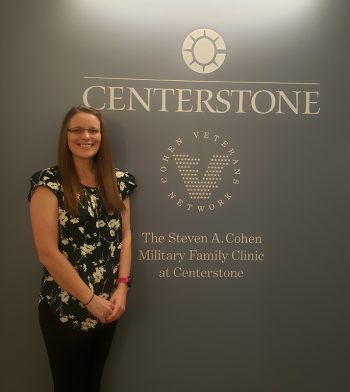 At the Steven A. Cohen Military Family Clinic at Centerstone in Fayetteville, our team is phenomenal. Every staff member plays a critical role in accomplishing our mission—to ensure our clients receive the care they've earned. Our team carries out this mission with passion that inspires. Here's a closer look at one such teammate, Victoria Mans, LCSW, LCAS, CCS, Clinician.
Tell me a little bit about yourself, such as where you grew up and your background leading up to joining CVN?
I am from Indiana and moved to North Carolina nine years ago due to my spouse being active-duty military. I have worked in child services and with the substance use population (medication-assisted treatment or MAT) prior to a more concentrated focus on mental health.
You've taken life experience and built a career to help others. What was your greatest takeaway from this process?
I believe that it is important to have a willingness to work with the person in front of you. Each person is deserving of treatment.
How have things been going at the clinic since you arrived?
Leadership has been kind and welcoming!
Have you faced challenges so far in your time at the clinic?

There's always a learning curve when coming to a new organization and learning all of the policies and procedures.
What do you hope for the clinic and your clients?

I hope that all my clients feel safe and comfortable coming to therapy and that they feel that they leave equipped with the skills to handle things that come their way. I hope coming helps break the stigma of mental health and that they see the value in talking about things that they have experienced.
What do you like to do for fun?


I enjoy running and spending time with my husband and daughter.
Favorite sports team? My favorite teams are the Indiana Hoosiers and the Lakers.