Meet the Team – Zoe Panizzi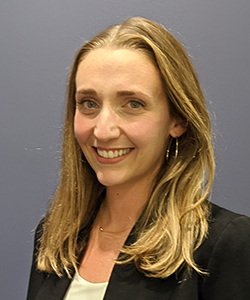 At the Steven A. Cohen Military Family Clinic at Centerstone in Jacksonville our team is phenomenal. Every staff member plays a critical role in accomplishing our mission—to ensure our clients receive the care they've earned. Our team carries out this mission with passion that inspires. Here's a closer look at one such teammate, Nurse Practitioner, Zoe Panizzi.
Tell me a little bit about yourself, such as where you grew up and your background leading up to joining CVN?
I was born and raised in Hawaii and moved to the mainland for college at age 18. My parents encouraged me to dream big and travel far, so I decided on a small liberal arts school in Maine: Bowdoin College. I had no idea what kind of winters I was in for!
While in college I double majored in Psychology and Gender and Women's Studies and took quite a few art classes as well. But my true concentration was Psychology. I had a strong interest in behavioral healthcare after seeing several close friends and family members struggle with mental health challenges. I decided to pursue my nursing degree after graduating, with a plan to become a psychiatric mental health nurse practitioner. I applied and was accepted to Vanderbilt University School of Nursing and made another big move, this time to the South!
While in graduate school at Vanderbilt I met my husband, who was stationed at Ft. Campbell. I had very little knowledge of the military at the time but was so impressed with my husband's dedication to service and his sense of honor. After graduating with a Master of Science in nursing, I accepted a position at Centerstone in Clarksville, Tennessee. I learned so much in this role and deeply value my time there.
Four years later, the Army life took us to Ft. Bragg where I had the opportunity to practice at First Health of the Carolinas. This was an invaluable experience for me. I had the chance to work with clients from a wide variety of backgrounds, to include active-duty soldiers in the Intensive Outpatient Program and veterans and dependents in the outpatient program.
As a military wife, this community has such a special place in my heart, and I really enjoyed the work that I did with these clients. When the Army brought us back to Ft. Campbell, I had the opportunity to join the Cohen Clinic at Centerstone in Clarksville. I am so excited to be here and to pilot a medication services program for the Clarksville, Jacksonville, and Fayetteville clinic locations!
You've taken life experience and built a career to help others, what was your greatest takeaway from this process?
I am continuously impressed with the strength of the human spirit. My clients' perseverance and resiliency in the face of seemingly insurmountable challenges is truly amazing and inspiring. This work has taught me that healing can happen for all of us, and we are all worthy of help and deserving of the chance to heal. I feel honored to share this space with patients.
How have things been going at the clinic since you arrived?
Things have been going great! I am very excited about the medication management program that we are building for the clinics. I am hopeful that this will be an asset to the team and a welcome addition to the outstanding services that the clinic already provides. This is truly an exceptional team of clinicians, and I'm excited to be a part of it!
Have you faced challenges so far in your time at the clinic?
I've experienced the normal logistical challenges of starting a medication management program, but there is a great support team in place, so it has been painless.
What do you hope for the Cohen Clinics at Centerstone and your clients?
I hope to see the clinics continue to grow and continue to offer the high-quality services to the community. I hope to see clients continue to grow and engage in radical change.
What do you like to do for fun?
I enjoy exercising, playing outdoors with my daughter and husband, taking walks with our family dog, gardening, doing art projects, visiting family, and traveling.
What is your favorite sports team?
I am not a huge sports fan (don't judge me!), but I did swim competitively through college, and I love watching swimming (and really any sport) during the summer Olympics.