Mental Health First Aid at the Cohen Clinic at Centerstone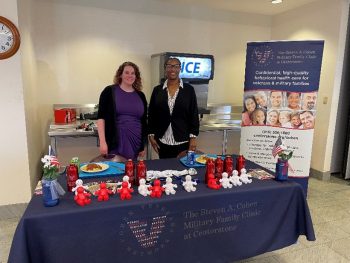 At the end of last month, Education Specialists from Veterans Services of the Carolinas facilitated Mental Health First Aid training at our clinic. Mental Health First Aid is a skills-based training course that teaches participants about mental health and substance-use issues.
It was the first of many to be held there this year. If you haven't had the chance to sign up for one yet, check out the event calendar. There are several opportunities to sign up for Mental Health First Aid as well as QPR for Suicide Prevention.
Click here to see the event calendar.
Presenting to McEntire Joint National Guard Base
Our clinic recently traveled to McEntire Joint National Guard Base in Hopkins, South Carolina for a presentation to airmen ahead of an upcoming deployment. Natasha Schauer, MSW, LCSW, LCAS, shared information on The Effects of Moral Injury. This helped the service members to understand moral injury for themselves as well as how to watch out for their fellow airmen who might have experienced moral injury.