Month of the Military Family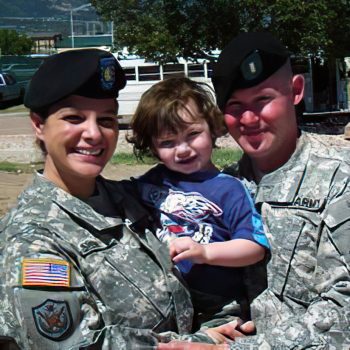 By Elizabeth Sherr, Clinic Director, Steven A. Cohen Military Family Clinic at Centerstone, Jacksonville
November is month of the military family. This is a time that we honor the families that serve or have served. This isn't only limited to immediate family, but mothers, fathers, siblings, grandparents and friends.
In 2009, I deployed to Iraq. My husband was also away. My youngest son at that time was 11 months old. My mother in New York and my husband's family in Pennsylvania, without hesitation cared for my son for 6 months. Friends in another part of Pennsylvania took care of our two dogs until my husband returned and another friend in Kansas stored our car for us. By the time my middle son was 13 years old he had "deployed" 9 times between his father and I. My family isn't unique though, we are one of hundreds of thousands who manage day to day despite moves, deployments, new schools, new friends and careers.
The majority of working spouses choose "portable careers". These careers are as educators, mental health counselors, social workers, nurses and other helping fields. Most families move on average every 2-4 years. It is not uncommon for children to attend as many as 10 or more different schools until they graduate from high school.
Another part of our military families are those close friends and relatives who step in for the parent who is away. They attend the daddy daughter dances, muffins with mom, sporting events and school plays. They hold the camera and record the winning goals and hand the hand of the families who are without their loved ones. Military families rely on each other as family is rarely close by.
You might be asking yourself, how do you honor a military family this month? If you have friends who have a loved one deployed or away make them a meal and drop it off, offer to spend time with them and let them know they are not alone. Take time to talk with a military child and ask them about their loved one. If the family is no longer in the military ask what their favorite assignment was. Watch them light up as they share stories of visiting Neuschwanstein Castle in Germany, the temples in Korea, monuments in the Military District of Washington, sunrises in Hawaii or climbing Mount Rainer in Washington.
Lifelong friendships and bonds are formed amongst military families. A common question that military families are asked is "How do you do it?" and the answer is usually "We just do it, we lean on one another, relying on our families and our military communities". Families definitely serve alongside their loved ones and are an important part of the success of our military.