Music Therapy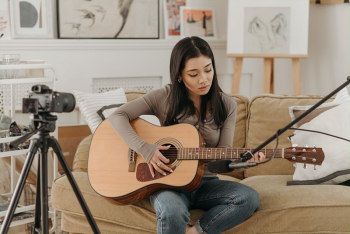 Here at the Steven A. Cohen Military Family Clinics at Centerstone we understand that for some, therapy can seem scary. Opening up to someone, exploring emotions and putting faith in a therapist to help you process those emotions can seem overwhelming. We also know that the healing power of therapy can come in many forms. There are so many types of therapies which include talk therapy and group therapy, but there is one that involves chords, a melody, a bit of rhythm and a story. That story is yours!
Music Therapy is a terrific form of art therapy that typically involves a music therapist working alongside a client.
Music therapists assess emotional well-being by designing music sessions for individuals or groups based on client needs using music. These can be carried in many forms. One on one creation of a song, group sessions that include the creation of a song together, drum circles where a group come together and simply start playing various drums, bongos and even plastic buckets. In a few moments the group is playing in sync. These different approaches in music therapy can be incredibly therapeutic and healing.
You may be thinking "I am not a musician, I never played an instrument or sang in choir!". Well, you don't need to have done either or have any experience with musical instruments or singing. Your music therapist will help guide you through the process and together you will develop a piece of living art. Some people prefer the song writer sing their story while others opt to sing their own story. Others create music with lyrics, not to be sung, but music played and lyrics kept close to the client.
There are numerous organizations across the nation that support music therapy. Several dedicate their work to Veterans and their families. Workshops can be over a weekend or a group that meets over a longer period of time. Studies have shown that veterans struggling with PTSD report a decrease in PTSD symptoms and an increase in coping skills.
"Music Therapy as a whole has shown improved resilience, reduced emotional distress, increased social connectedness, as well as reducing specific symptoms of isolation, avoidance and anxiety," Elizabeth Sherr, Director of the Cohen Clinic at Centerstone in Jacksonville, FL said. "It's something we're exploring in our clinics and something our case managers can certainly help our clients find resources for if they're interested in getting involved with."
Everyone can benefit from music therapy. Children, adolescents, adults, elderly with mental health needs, developmental and learning disabilities, substance abuse struggles, brain injuries, physical disabilities and even chronic pain.
The great Elton John once said "Music has healing power. It has the ability to take people out of themselves for a few hours". For some, a few hours away from their troubles today could lead to days of thriving ahead.