Nature's Finest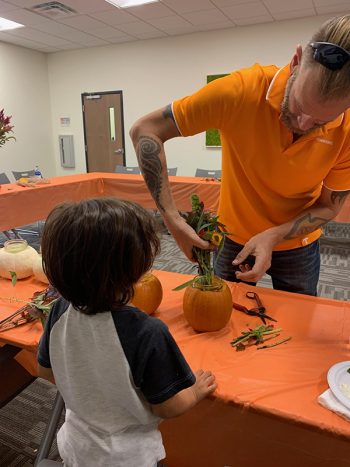 When you meet Charley Jordan, of Jordan Farms, for the first time, you may think he's a bit shy. He admits, he is, but get him talking about farming or how getting your hands dirty can help heal, and you quickly see he's far from shy when talking about his passion.
"Charley is a fantastic friend of the clinic," Julie Adams, Clinic Director at the Steven A. Cohen Military Family Clinic at Centerstone said. "He brings so much energy and enthusiasm to our community room each time he teaches a class for us. We are so grateful to him."
Charley is an Army veteran. He retired in 2017 as a Heavy Assault Special Operations Aviator with the rank of Chief Warrant Officer Four. He saw the world in his 28 years of service, but his favorite plot of land is his farm.
"All I knew at the time was that farming made me happy," he said in an article published by Tennessee Home & Farm. "I saw how I would go on a deployment and as soon as I would come home, it was just amazing the feelings I got from going out and seeing my cows again."
Charley's love for agriculture got him wondering if farming could benefit other veterans like it did for him. He began to seek out ways to give back to his fellow brothers and sisters in arms and hasn't stopped since.
He is a member of the Farmer Veteran Coalition (FVC), the nation's largest nonprofit organization dedicated to helping our nation's heroes get started in agriculture and has created a state FVC chapter. He is the veteran representative for UT's Beginning Farmer Outreach Program, the AgrAbility Project for farmers with disabilities, and other groups. Plus, he gives of his time regularly to Cohen Clinic at Centerstone by sharing his handy work and inviting others to join him.
"Charley has held numerous events for our military families here at the clinic," Adams said. "In fact, in the last few weeks he's taught us about herbs, helped us make bouquets and walked us through an adorable project with pumpkins. The majority of the materials come right from his farm and participants walk away their creations, great memories and smiles." Charley will be back at the clinic in November. This time he's calling the project "Micro Green Mania". For more information on the class and how to sign up, keep an eye on the clinic's Facebook page at https://www.facebook.com/CohenCenterstoneTN .