Nature's Healing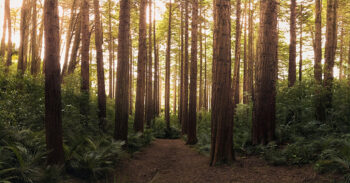 Not only is June PTSD Awareness Month, these 30 days that transition from spring to summer, are also Great Outdoors Month. The joint acknowledgement may be the perfect marriage. Army Veteran and clinician at the Steven A. Cohen Military Family Clinics at Centerstone, Don McCasland, believes so. For McCasland, healing is found on the trails, in the trees and in the sounds of nature. Here, he shares how the Mother Nature can be magical when managing PTSD symptoms.
As a veteran that struggled with the aftereffects of what I experienced on deployments, trying to figure things out and just feel better about my situation was not an easy process. But, beyond therapy one of the biggest things that has helped me maintain progress, and even gain some has been the woods. The peace, solitude, and connectedness to my body, emotions and with my surroundings. Being able to literally and figuratively move through thoughts and stressors. I'm talking about personal experience, but there's also scientific research to back it up, too.
Exercise boosts production of endorphins which help us feel happy. Also, for people who can take part in activities that involve physical challenges, those efforts can help us feel a sense of achievement, reaching an objective or "mission accomplishment," which can help us reconnect with those inner-strengths of overcoming adversity, self-confidence and working through obstacles and problems. Knowing that we can do that when we need it can be hugely helpful when we are dealing with the memories of a traumatic event or other things that seem to get in our way when it comes to having a sense of purpose or the ability to fit in and feel comfortable with our surroundings.
PTSD symptoms, such as hypervigilance, can be used by veterans in a positive way. When in the outdoors, we can take those powers of focus and situational awareness and utilize them when observing our surroundings in nature—appreciating where we are and connecting with a sense of order and rightness of things. Hearing the birds chirp, the wind blow through the trees, smelling the air… it all sounds kind of cheesy, but we aren't talking about physically hugging trees or talking to flowers. Just being aware of your surroundings and knowing that where you are in that moment can help us realize that we aren't just surrounded with chaos, terrible drivers and "people that just don't get it." Even if we might have a physical limitation of some kind- all we need is a bottle of water (Hydration, people!) and a granola bar, some comfortable shoes, and a wooded path to walk on for however long we can manage—be it 10 minutes or 2 hours.
Whether you're experienced with the outdoors, haven't ever been in the woods, have access to a National or State Park or just a local walking trail…no matter where you are, this month, give nature a try. You might be pleasantly surprised. I hope I see you out there!