New Med Management Services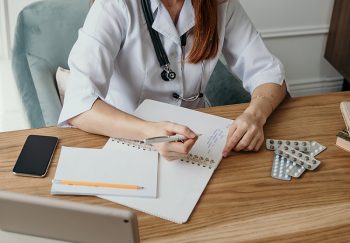 The Steven A. Cohen Military Family Clinics at Centerstone are excited to announce that starting this month, medication management services will be available in person in the Clarksville office and virtually across all three Cohen Clinics at Centerstone.
Medication management will be provided by our board certified psychiatric nurse practitioner, Zoe Panizzi. Ms. Panizzi brings a wealth of knowledge to the clinic and has experience working with active military members, dependents of active-duty military members and veterans. She is also the spouse of an active-duty service member herself and understands that, for some, the thought of taking medications can be daunting.
"Many people need medications for a variety of reasons," Panizzi said. "Unfortunately, there can be a stigma around taking psychiatric medications. I encourage patients to consider that psychiatric diagnoses are no different from other diagnoses, like diabetes or hypertension. And in that regards, taking psychiatric medications to help manage the symptoms of your diagnosis is no different than taking blood pressure medication for high blood pressure. There are times when medication is helpful and necessary in managing a diagnosis, and behavioral health is no different."
Panizzi joined the Cohen Clinics at Centerstone team in September and is now seeing clients. Her scope of practice has been a welcomed addition to clinical services and one she hopes will further help military families heal.
"Medication can help decrease the frequency and intensity of symptoms and works best when combined with therapy," Panizzi said. "Often when we add medications, symptoms become manageable enough to really engage in the work of therapy and can aid in creating sustainable change."
Medication management services will be available to patients actively participating in therapy at the Cohen Clinics. Common diagnoses treated include PTSD, anxiety disorders, depression, and mood disorders. Psychiatric services are available for adults, adolescents and children ages five and up. Services are limited to patients residing in Tennessee, Florida and North Carolina.