Life;Story 5K Raises Over $40K for Suicide Prevention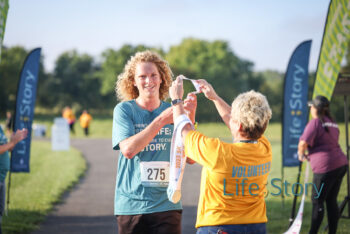 Centerstone's Life;Story 5K for suicide awareness and prevention was held on September 9 at Harry L. Crisp Sports Complex in Marion, and this year raised more than $40,000 to support mental health and addiction services for people with little to no resources.
The event saw 246 participants from 13 states with 107 participating virtually and 139 competing in-person.
"Life;Story is more than a 5K race; it is a rallying cry to everyone that we all can and should help those affected by suicide. It is an opportunity for each of us to show our support, start conversations, break down barriers, build support systems, and step up for each person affected by suicide," said Anne Tyree, Centerstone Regional CEO. "In Illinois, each year, approximately 1,400 people die by suicide. It is the third leading cause of death for ages 10-34 in our state. One death by suicide is one too many."
The event began at 7:30 a.m. with the Life;Story Health and Wellness Expo, a presentation of colors by the Carterville American Legion and the singing of the national anthem by Amanda Byassee Gott, followed by the start of the 5K run/walk.
Winners of the race included:
1st place overall female:

Mary York of Makanda with a time of 19:28

1st place overall male:

A.J. Altman of Carbondale, 16:15

1st place overall under 18 years old female:

Sophia Badiu of Carterville, 28:12

1st place overall under 18 years old male:

Garret Murphy of Creal Springs, 17:16

1st place overall 40+ master female:

Liz Hunter of Carbondale, 28:19

1st place overall 40+ master male:

Ben Henshaw of Sturgis, KY, 18:40

1st place female virtual:

Lauren Young, 37:54

1st place male virtual:

Josiah Smith, 24:56
Following the race, the closing program included recognizing the inaugural Life;Story Champion Award winners Southern Illinois Healthcare School Health Coordinator Cherie Wright and Madison County Mental Health Board Executive Director Deborah Humphrey for their positive impact on mental health in their communities.
The closing program also featured Christine Snyder whose son, Logan, died from suicide in January 2022. Snyder is the county board liaison between the Jackson County Board and the Mental Health 708 Board, a special education teacher at Desoto Grade School, and a retired police officer of the Carbondale Police Department.
"Each morning when I wake up, it's like the morning I got the phone call telling me the terrible news all over again. As soon as I wake up, my heart tells me that my son is no longer living on this earth and the pain starts. The hole his absence has left in all of our hearts is more than words could ever explain," Christine said.
"If you are here because you are a suicide survivor of a loved one, please know you are not alone. You can survive this and any feelings you may have are valid. It's okay to not be okay. If you are here because you need help or you're struggling with your life, please contact Centerstone or call 988 for immediate assistance. You are not alone and I am happy you are here."
The Life;Story name includes a semicolon – a punctuation mark that indicates there is more to come, unlike a period indicating the end.
"Like the semicolon in Life;Story, your participation will remind our community that there's more to every life; there is more to every story," said Tyree.
Centerstone has hosted the Life;Story run/walk for more than 20 years in Florida. This is the first year the event was held in Illinois. In 2022, Life;Story raised more than $75,000 and included more than 775 participants from 17 states and Puerto Rico.