News of Note: A Special Visit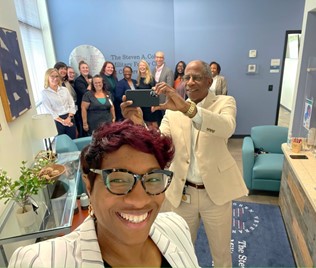 Our Cohen Clinic at Centerstone in Fayetteville recently received a special visit from some great supporters of our clinic and its mission.
On July 27, Regional CEO, Ben Middleton, MS.; Centerstone Regional Director, Matthew Hardy, Psy.D; and Cohen Clinics at Centerstone Regional Director, Lisa Eggebeen, LCSW; alongside Advisory Council Board Liaison, Tracy Frist, and Board Chair, Dana Oman, visited our clinic.
This visit emphasized the commitment that leadership and our valued partners share in the success of the Cohen Clinics at Centerstone.
◂ Here's a selfie of a selfie from this fun visit!