Operation New Uniform Above and Beyond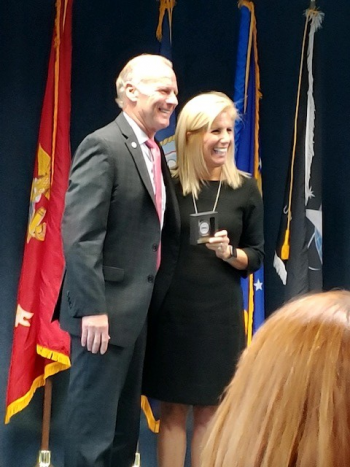 The Steven A. Cohen Military Family Clinic at Centerstone strongly believes that one of our primary missions is collaboration with fellow Veterans Service Organizations to ensure veterans and their families are provided the highest level of support. This collaboration takes many forms and we are fortunate to work closely with Wounded Warrior Project, K9s for Warriors, Northeast Florida Women Veterans, City of Jacksonville, Mission United and many other tremendous organizations. This collaboration has significantly strengthened the sharing of information and resources that enable our area to be the most military and veteran friendly community in the country.
One of our most important collaboration partners is Operation New Uniform (ONU) and we have been fortunate to establish a relationship that strengthens the services of both organizations. Operation New Uniform's mission is to train veterans and their families for fulfilling careers and develop their skills as they grown within an organization. As Operation New Uniform continued to move forward with their mission they sought to enhance their veterans' awareness of mental health and its importance to them and their families. ONU consulted with our Clinic on how to raise this awareness and Clinic Director Liz Sherr now addresses each class with a message about mental health that strongly resonates with each veteran. "I emphasize that ONU veterans are in a transition phase in which they are learning about themselves, their strengths and weaknesses," Liz said, "So take this time to address their mental wellness, not just for themselves but also for their families." As a combat veteran Liz fully understands the challenges facing veterans and her presentations have resulted in many ONU veterans and their families receiving care. In addition to Liz's interaction with the veterans, Outreach Director Brigadier General (ret) Mike Fleming has worked numerous projects in support of ONU and served as a strategic consultant to the ONU staff.
In recognition of this support, Operation New Uniform honored the Clinic with the Above and Beyond Award. This Award was created to recognize those who give their time and resources to ensure ONU veterans have a successful transition. "Organizations like the Steven A. Cohen Military Family Clinic at Centerstone have been instrumental in our success as we want to fully support all aspects of our veterans' lives, including mental wellness," said Michele McManamon, ONU CEO, "Liz and the Clinic staff have become an important element in providing mental health services that have significantly improved the lives of our veterans and their families." The Clinic is appreciative of this recognition and we look forward to strengthening our relationship to further support those who have served us.