Supporting Parents Who Have Lost a Child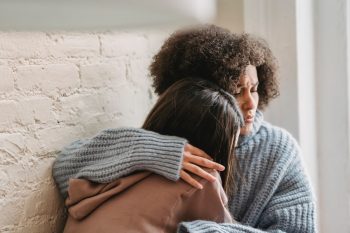 Losing a loved one is difficult no matter the circumstances. The person is gone, while others are left to grieve their loss. These feelings may be even stronger for parents who lose children.
"The loss of a child is unlike any other," says Regine Anderson, Therapist at Centerstone. "Losing a child is devastating. Along with their loss is the loss of good expectations – graduation, marriage and grandkids to name a few."
Bereaved parents may experience deep sadness for longer than others who have lost loved ones. Each birthday and anniversary is a reminder. Thoughts like, "This is the year she would have learned how to drive," are common. There may also be more anger about a child's death. It may be cliché, but it is still true that no one imagines losing their child before they themselves are gone.
An added challenge some families face is when they lose a child but still have other children to take care of. The siblings of a lost child are grieving themselves, and they may understand what happened even less. Parents of children like these have to learn to balance their own grieving with supporting their grieving children.
There is no easy way out of the grieving process for bereaved parents, but we can still help the ones in our lives. While the grief will not magically go away, bereaved parents can receive comfort through support.
Ways to support bereaved parents
Be a good listener. Bereaved parents want you to know that it is okay to talk to them about it. Don't ignore what happened. "Sometimes bereaved parents need permission to talk about their child, as they might not know how to bring them up in conversation," says Regine Anderson. "Extend that permission by letting them know it is okay if they want to talk about them." Let them tell stories and express how they feel.
Incorporate them in your life. Look for ways to involve bereaved parents as part of your own family. Invite them to dinner, the grocery store, family game nights or any other activity to make them feel like they can be part of your family.
Place no expectations on them. The worst thing you can do to a bereaved parent is place an expectation on them to "get over it." Their grief is something they will likely carry with them for the rest of their lives, and that is completely okay. If they are having an off day because of their loss, even if it was years ago, give them the space to grieve as they need.
Follow their lead. Bereaved parents know what they can and can't handle, so allow them to make the rules about what is "too much." Be patient with them, and try to take no offense if they respond negatively. Let them honor the anniversaries. Let them keep their pictures up in the house. Let them do what they need to do.
If you or anyone you know are struggling with mental health challenges due to a loss, Centerstone is here to help. Call us at 1-877-HOPE123 (877-467-3123) or visit centerstone.org/connect-with-us/ to get connected with care.
---
---