Pledge to our Heroes: Delivering Life-Changing Care to Women Veterans Program
Home / Pledge to our Heroes: Delivering Life-Changing Care to Women Veterans Program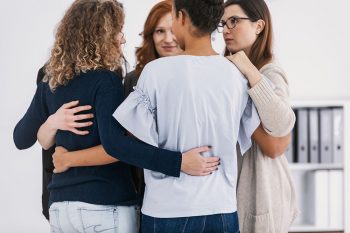 In collaboration with The Partnership for Mental Health, a project of Baptist Health and the Delores Barr Weaver Legacy Fund at The Community Foundation for Northeast Florida, the Steven A. Cohen Military Family Clinic at Centerstone in Jacksonville has developed the Pledge to our Heroes: Delivering Life-Changing Care to Women Veterans Program. Florida is home to the second largest population of women veterans in the nation, with more than 162,000. Women veterans are one of the fastest-growing segments of the veterans' population. Continuation and increasing the ability to offer programming specific to women veterans is a unique facet of the Cohen Clinics. Collaborating with The Partnership for Mental Health will provide this underserved population unique services to enhance their quality of life.
The Women Veterans Program is a multi-faceted program that provides psychotherapy groups, Women's Veteran's Health Series, and Women's Only Trauma-Informed Yoga. Each is a resource that women veterans can access by contacting the Cohen Clinic. The psychotherapy groups are ongoing and available at any time. These groups include:
"Battle Buddies" Women Veteran Peer Support Group encourages women veterans to establish meaningful relationships and connections with other women veterans who have similar interests or challenges.
"My Life 2.0" Combat Women's Veteran Group provides insight and skills to help manage different experiences and deal with the effects of those traumas.
"Talk it OUT" Women Veterans LBGTQIA+ group offers a safe space to persons who identify as female members of the LGBTQIA+ community and who have experienced challenges due to sexual orientation, gender identity, and/or gender expression during their time of service and after.
"Space to Breathe" Women Veterans Caregiver Support Group is for post 9/11 women combat veterans who find themselves in caregiver roles such as caring for loved ones who are sick, caring for children, or who work in supportive caregiving careers.
Starting in 2022, the Women's Health Series is open to everyone and provides a monthly event that includes sessions on sleep, stress, nutrition, exercise, and reproductive/sexual health. The Women's Only Trauma-Informed Yoga provides weekly sessions conducted by Yoga 4 Change, with classes starting in January.
We strongly believe there should be no barriers to care for women veterans. Our collaboration will ensure that women veterans with no or limited insurance can still receive care. The Steven A. Cohen Military Family Clinic at Centerstone is honored to collaborate with The Partnership for Mental Health and offer enhanced services for women veterans.
For information on any of these programs, please contact the Cohen Clinic at Centerstone at (904) 431-3500 or cohenFl@centerstone.org.