Renowned Artist to Help Honor Local Veteran and Military Family Talent in 4th Annual Show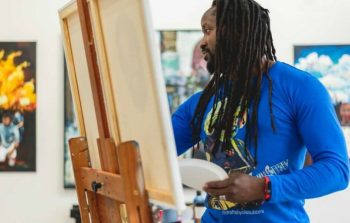 Clarksville's Olasubomi Aka-Bashorun will join the Steven A. Cohen Military Family Clinic at Centerstone's fourth annual Community Art Show to shine the spotlight on local veteran talent.
Olasubomi Aka-Bashorun, known simply as Ola to many, learned at a young age that artistic expression is healing – his high school AP art teacher taught him that. She encouraged him to use his talent to tell a story, share his struggles and let the world see who he is. Today, not only does he create masterpieces that adorn city blocks and hang in homes and galleries around the state, he encourages others to do the same.
"Art for me, is more than creating aesthetic images," Ola writes on his website's homepage. "It's about releasing emotions that are hard to let go: one's deepest desires, anger, frustrations, and lust. It's about the good, the bad and the ugly. It's about finding solution, discovering yourself and escaping. Art is therapy."
Ola's passionate belief in the arts and the power creativity can play in one's healing is why he didn't hesitate when asked to join the Steven A. Cohen Military Family Clinic at Centerstone, a not-for-profit mental health clinic dedicated to serving our nation's heroes, in celebrating its 4th Annual Cohen Clinic at Centerstone Community Art Show.
"We couldn't be happier that Ola has agreed to be our guest speaker for the show's closing night. He is a symbol of the role artistic expression can play in a person's life," Meghan Williams, the clinic's outreach director said. "Ola has been an inspiration to many in our area. He encourages others to share their work and express themselves through their creativity. In fact, at least one artist in the show is here because of him."
Ola will be on hand September 22nd at the Customs House Museum to help close this year's event. Before then, anyone interested in seeing the show for themselves is welcome to visit the Customs House beginning August 22nd through the show's closing night.
"We are so grateful to the Customs House team," Williams said. "They have been a tremendous source of support for us over the years and have graciously agreed to host the show this year where it belongs – in a true gallery."
The 4th annual art show will feature an online auction where a portion of the proceeds from purchased artwork will go back to the clinic to help ensure staff can continue to provide compassionate, accessible mental health care to this most deserving population.
"First and foremost, this art show is to honor those who have given so much," Williams stressed. "We want our military and their families to understand they are never alone and we recognize their sacrifices. Their talent is a beautiful bonus we all get to enjoy with this event, while helping to ensure we can continue to give back and support those who have so rightly earned it."
For a glimpse into what to expect at this year's show, including updates and a link to the online auction when it opens on August 22nd visit the event website at http://cohenartshow.com/. For more on the Steven A. Cohen Military Family Clinic at Centerstone and services it provides log on to https://centerstone.org/cohen-military-family-clinic/