Salute to Military Spouses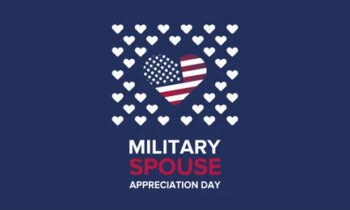 This month, we not only honor those who wear a uniform of our Unites States Armed Forces, we also honor those who stand beside them. May 7 is Military Spouses Day. The role these vital individuals play in the lives of our military members is immeasurable. They hold down the fort at home, allowing our nation's service men and women to answer the call of duty, and they provide support and hope through their love that so often keeps our military personnel strong and resilient in their service.
"Being a military spouse is not without its challenges," Elizabeth Sherr, retired Army officer, military spouse and mother and Clinic Director of the Steven A. Cohen Military Family Clinic at Centerstone in Jacksonville, FL said. "I've played just about every role a person can in the military community. I know that being a spouse requires strength, courage and resiliency. Not only do you weather the permanent change of station (PCS) moves along with your service member, you also endure the times of separation, which comes with a myriad of emotions to manage."
Military spouses are familiar with saying goodbye, fearing for the safety of their loved ones down range, and ensuring the home front is taken care of, including the care of children.. Their job is not easy, yet it is honorable and worthy of a thank you not just one day, but every day.
"The military community is a special one," Kendra Lee, Army wife and intake coordinator at the Cohen Clinic at Centerstone, Clarksville, TN said. "Shared experiences and unique challenges bind the community together like no other. Yet, it is hard being the one to stay home while your best friend and partner is gone, possibly in harm's way at any moment. That's why I love working with the Cohen Clinic at Centerstone. Our team understands military culture and stands ready to support the entire military family through these tough times."
From all of us at the Cohen Clinics at Centerstone, thank you to our military spouses. Your service and sacrifices are not forgotten. Please know you have earned our support, and you are never alone. If you would like to know more about our services including our variety of therapy offerings call (877) 463-6505 or log on to centerstone.org/cohen-military-family-clinic/fayetteville/.