Staying Connected While Apart This Holiday Season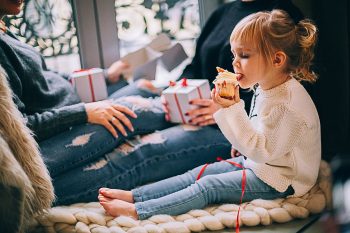 This holiday season, many families will find themselves separated due to the ongoing pandemic, making an already difficult year all the more challenging.
But for military families, separation is often a familiar part of the holidays. So, what can we learn from military families as we approach this season?
For DeAndra Parker, a Case Manager at the Cohen Clinic at Centerstone, N.C., and a Fayetteville native and Army veteran spouse, the key is to "stay connected."
"It's very important to keep connected to your family, even if you're physically separated, as well as the things you're interested in," says DeAndra. "Doing this will help you stay centered and positive."
DeAndra recommends utilizing technology to keep in touch with family. She's used group Facetime chats to interact with extended family living out of town and to stay in touch with her husband through his military service and subsequent frequent work travel.
For added fun, DeAndra recommends that families synch their schedules and watch holiday movies 'together' using a device this season, even when in different zip codes.
"Do whatever you can to maintain that social connection while you're apart," says DeAndra.
As far as staying connected to self, DeAndra enjoys taking time to do things that bring her joy. For DeAndra, this includes pursuing her education. She is scheduled to graduate in May 2021 with her Master's Degree in Social Work from Fayetteville State University.
For now, DeAndra looks forward to continuing to serve veterans and military families at the Cohen Clinic, just as she has for the past three years.
"I've really appreciated the experience to continue on with the Cohen Clinic at Centerstone in Fayetteville," says DeAndra. "It has allowed me to grow and change."
She continues, "I also appreciate the opportunity to continue to assist clients in receiving the care they need."
If you or a fellow military family or veteran need added support this holiday season, DeAndra and her teammates at the Steven A. Cohen Military Family Clinic at Centerstone stand ready to help. For more information on services or to schedule an appointment simply call (910) 500-1800.