Steven A. Cohen Military Family Clinic at Centerstone recognizes new leadership in Clarksville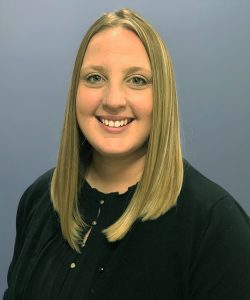 The Steven A. Cohen Military Family Clinics at Centerstone are growing. Despite the challenges brought on by a global pandemic, the Cohen Clinics at Centerstone not only continue to support our nation's heroes in need, they are doing so with tremendous life changing results and with promising moves for the future. For the clinic located in Clarksville, TN, Centerstone's first Cohen Veterans Network (CVN) partnership, this has included the naming of a new Clinic Director.
Since opening its doors in 2018, the Clarksville location quickly became CVN's most utilized clinic nationwide, growing by leaps and bounds almost immediately and eventually sparking the need for staff members to grow along with its success.
"Our Clarksville clinic was embraced by the community immediately and we are so grateful," Lisa Eggebeen, the clinic's original director, now regional director of three Cohen Clinics at Centerstone said. "We were blessed to find a great team of professional, dedicated staff and to be welcomed by many community partners that we are blessed to call friends today."
Eggebeen was responsible for creating that team, hiring both the clinical staff and support team, now 25 members strong. That included hiring her former assistant director, who now assumes Eggebeen's role as clinic director, licensed clinical social worker, Jennifer Smith.
"As the demand for services increased and Centerstone began to broaden its partnership with CVN by taking on two new clinics, one in Jacksonville, FL and the other in Fayetteville, NC, we realized we could take a collective approach to best serve our military families across the southeast. I was honored to be assume the role of Regional Director of the Cohen Clinics at Centerstone," Eggebeen said. "I was equally pleased, as was our team, to recommend Jennifer take on the clinic director role here in Clarksville."
Smith takes on the role of clinic director with 2 years of experience as the assistant director and over 10 years of experience in the behavioral health field. She is the spouse of a post 9/11 veteran and has experience both personally and professionally with the various needs of the veteran population and their families.
"I have known Jennifer professionally for a number of years," Eggebeen said. "She is passionate about and dedicated to the work we do. From day one, I had no doubt she would be an amazing asset to our clinic and an outstanding leader."
"My goal in taking on this responsibility is to continue to ensure that our veterans and their families receive quality and timely care and that the Clarksville location continues to grow and support this wonderful community," Smith said. "We want to be a presence here and to continue to earn our reputation as a trusted provider to the veteran population."
Smith officially took on the role of clinic director in November 2020. Since then she has welcomed former lead clinician, Julie Adams as her assistant director and continues to ensure the Clarksville clinic and its clients thrive.