Talking Telehealth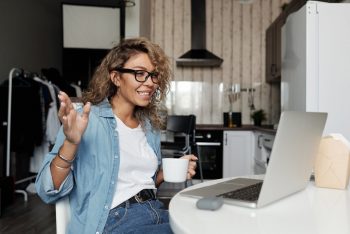 There isn't much that hasn't been affected by the physical distancing guidelines brought about by the COVID-19 pandemic. How we work, how students attend classes, even how we shop has changed lately. Yet, some changes haven't been all bad, in fact, they've opened up new possibilities. The world of telehealth is certainly one of those cases.
"Telehealth truly breaks down so many barriers to care some people face," Venee Hummel, therapist at the Steven A. Cohen Military Family Clinic at Centerstone in Clarksville, TN said. "Sometimes getting to appointments throughout a busy day can cause added stress. In the case of telehealth, time constraints, for instance, are simplified because there is no need to factor in commute times."
Hummel, shared benefits of telehealth like this one while participating in a Comcast South produced virtual summit on digital technology this month. The Digital Equity Summit focused on how the pandemic has exacerbated issues for some such as access to health care and social isolation stressors. Then, through a series of interviews, discussions, and features focused on policy, technology, and service delivery innovations, it explored the opportunities to provide better health outcomes and quality of life through digital solutions.
"The summit focused on older adults," Hummel said, "but really the principles and benefits to telehealth can be applied to just about anyone. For instance, our military families face incredibly unique challenges such as child care concerns where one parent is sometimes holding down the fort at home, while the other is serving oversees. Caregivers face tremendous time concerns as well. Telehealth can help reduce those barriers to needed care and support."
Hummel spoke to a variety of concerns pertaining to telehealth such as ensuring privacy and numerous best practices.
"For some people, accessing their mental health care from their home actually makes them feel more comfortable than coming into the office. And I've done a lot of appointments with clients in their parked cars either at work or even in their driveway for privacy from their family," Hummel said.
The presence of COVID-19 has resulted in stress and change for everyone. "Things were hard before this pandemic, so of course strain on well-being will be exasperated in 2020," Hummel stated,  "If you're noticing continued challenges in functioning and living a life that aligns with what you value, consider getting help to get back to better and have support in your corner as you navigate this all."
Hummel pointed out that what is unique about The Steven A. Cohen Clinic at Centerstone is that the clinic had been offering telehealth services long before COVID-19 was a household word. The ability to provide high-quality, evidence-based care that is as effective as in-person therapy had been established prior to 2020.
"I was a supporter and believer in telehealth before March 2020, but now I can say that I've had so many clients experience healing with each of their sessions occurring over a smart phone, tablet, or laptop."
And when asked about those who may not feel comfortable with the idea?
"I think it's just really important to acknowledge it," Hummel said. "Yes, it even feels different for me in certain ways. So let's talk about it and let that discomfort be normal in our session. In my experience, that discomfort quickly fades one or two sessions in."
Comcast's digital summit was open to registrants across Tennessee, and available via a digital platform on December 10th.
For more information on the Cohen Clinic at Centerstone and telehealth services provided, visit the clinic's website at https://centerstone.org/cohen-military-family-clinic/