The Cohen Clinic in the Community 2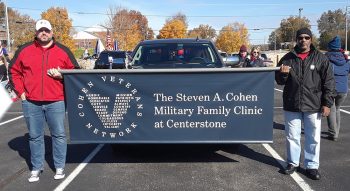 Family Movie Night is back! We had a packed house for our November showing of "Toy Story 4." Thank you to all who made the silver screen evening such as success. We'll be munching on popcorn and turning the community room into a cinema again in December just in time for the holidays!
Our onsite or online marriage workshop was a huge success! The eight-week course was so well received we will be bringing it back in January. Be sure to stay tuned to our Facebook page for sign-up information.
We continue to collaborate with the Department of Veterans Affairs' Whole Health Program to host yoga, tai chi and kettle bell classes. We plan to add an afternoon Tai Chi class to the mix too. Stay tuned to our Facebook page as we improve the schedule for the most up to date days and times.
Thanks to Operation Hope we are now offering one-on-one financial coaching sessions. These sessions are for anyone looking to relieve the stress associated with financial concerns. With the holidays right around corner, who couldn't benefit from a little coaching before the hustle and bustle begins? These sessions take place the third Tuesday of every month. For more information or to sign up you can contact Meghan Williams, Outreach Director, at Meghan.williams@centerstone.org.