The Cohen Clinic in the Community 3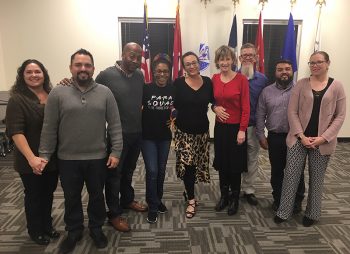 Family Movie Night: More than 18 people joined us as we turned the community into a theater for our most recent Family Movie Night. This event has developed quite a following. We pop the popcorn and pull down the big screen, but families have now taken the event to the next level – bringing additional snacks for all moviegoers to share!
Arts for Hearts: Thanks to Arts for Hearts volunteers, we created festive masterpieces for the holidays. More than 20 participants gathered around tables decked in holiday style to make crafty pom-pom trees. Arts for Hearts has collaborated with the clinic for the past year to host monthly art events that never fail to disappoint.
Dinner and Dancing Date Night: We rocked around the Christmas tree in December with a Dinner and Dancing Date Night. Local dance instructor Patricia Sarago showed us the moves and Chili's restaurant was kind enough to sponsor the meal. Dancer feedback was wonderful and plans are in the works to hold this event again in February.