The Cohen Clinic in the Community 4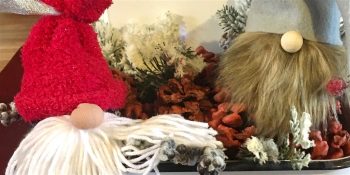 Arts for Hearts: Our fabulous friends at Arts for Hearts continue to share their creativity with us monthly. This time we gnomed it up. These adorable masterpieces were a hit and may be back on the table for February's event. Be sure to stay tuned to the clinic's Facebook page for the Eventbrite link.
Healthy Cooking Classes: We partnered with the UT Extension office in Clarksville to explore healthy food options. There are a few classes still on the calendar in February. They are held every Wednesday at 10:30 a.m. Break out your inner chef and join us!
What in the Gourd: Nature met the Arts in January thanks to Charley Jordan of Circle J Ranch. He kindly gave his time and his gourds so we could add a bit of color to homes for our feathered friends. Charley has agreed to keep sharing his talents with us. Be sure to stay tuned for his next natural offering coming up soon!