The Cohen Clinic in the Community 1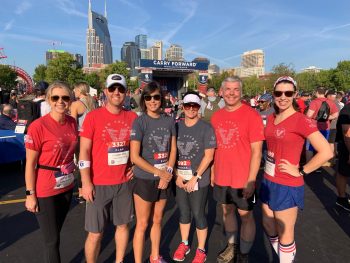 We cannot say enough about our friends at Arts for Hearts. They are not only crafty, but each and every volunteer is a genuine inspiration. They join us every month to help us make masterpieces. Plans are already set for November, December and January. Due to demand and these classes are definitely in demand, make sure to follow us on social media for the Eventbrite links for each event!
Thanks to Operation Hope we are now offering one-on-one financial coaching sessions. These sessions are for anyone looking to relieve the stress associated with financial concerns. With the holidays right around corner, who couldn't benefit from a little coaching before the hustle and bustle begins?  These sessions take place the third Tuesday of every month.  For more information or to sign up you can contact Meghan Williams, Outreach Director, at Meghan.williams@centerstone.org.
We continue to collaborate with the Department of Veterans Affairs' Whole Health Program to host yoga, tai chi, and kettle bell classes.  Stay tuned to our Facebook page as we improve the schedule for the most up to date days and times.
We took a short break from Family Movie Night in July and August to account for summer plans, but no worries we will fire up the popcorn maker again soon. This has become a fan favorite. Our most recent cinema experience featured a packed house of more than 20 moviegoers. This one is here to stay folks.
In case you missed it in our last newsletter, Operation Song was back in July. Participants and Nashville Songwriters turned the clinic into a recording studio and created a few incredible tunes. We plan to bring them back soon. This is truly an opportunity you don't want to miss so be sure to keep an eye on our Facebook page for updates. Meanwhile, here's a link to just one of the powerful songs recorded that day.
In September, the Cohen Clinic participated in the Wounded Warrior Projects, Carry Forward 5k Run in Nashville, TN. We exceeded our fundraising goals and raised $740 to help support wounded warriors and their families. As military community members, we know the challenges faced by veterans and their families and the important work WWP supports in our community. Some of us work with WWP as therapists for their Project Odyssey program and we know the positive impact that they have on our veterans and their families as they move closer to healing.
Also in September, half-way across the world in beautiful Kuwait, our data manager Aaron Goletz represented the entire CVN and Centerstone team at the CENTCOM Suicide Prevention Awareness 5k.