Training for Faith Leader Support of the Military Community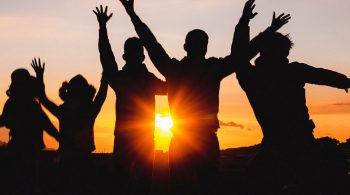 As we reflect on our military members who have sacrificed, supporting these warriors and their families is much more than a "Thank you for your service"; it's about taking actions that directly impact the daily lives of our military community. Currently, serving warriors continue to conduct arduous training and lengthy deployments that take them away from their families. These same families must continue to function without their service member present, then face a sometimes-difficult readjustment period upon the service member's return home. Similarly, veterans will also face challenges after leaving the military as they readjust to civilian life.
Regardless of their current military status, our community owes these warriors and their families the strongest support we can provide. Our community is constantly seeking new ways to support the military, and Faith Leaders play a crucial role in this support. Like their civilian counterparts, faith is a foundational aspect for many military members. However, Faith Leaders often have a limited understanding of the essential issues common to the military community. With greater understanding, faith communities can better use available resources to support veterans and family members who otherwise may feel isolated, alienated, and helpless.
The Veterans Administration, the Steven A. Cohen Military Family Clinic at Centerstone, Fire Watch, and Operation New Uniform, are partnering to enhance Faith Leader understanding of the military by providing a training webinar series and other resources. The next webinar, Faith Leader Military Awareness and Support Training II: Military Families and Deployment, takes place on May 25, 2022, from 12:00 pm – 2:00 pm in person and virtually at the Cohen Clinic at Centerstone Jacksonville. Panelists will impart important information about the military and offer practical actions to support military members and their families.
You can register for the webinar here: https://centerstone.zoom.us/webinar/register/WN_ILL1EHe6QaOwmLLwnaL_UQ. 
Fire Watch has established a Faith Leader Resource Page found here https://www.thefirewatch.org/faith-leaders; that provides information on the North Florida Military-Veteran Resource Guide, mental health resources, and faith-based community support to the military. It is vital that faith staff attend this training and utilize the Resource Page as every staff member can directly impact the lives of military families. We are fortunate to have a community that values our military. We owe our support to our current military members, veterans, and future generations. George Washington stated that "The willingness with which young people are likely to serve in any way, no matter how justified, shall be directly proportional as to how they perceive the veterans of earlier wars were treated and appreciated by their nation." Faith Leaders should be on the frontline of support for our military, and every leader can make a difference. Now is the time for faith leaders to take action. Invest your time in making a difference for our military and register for this training to better support those who serve us.