Youth Task Force Takes Action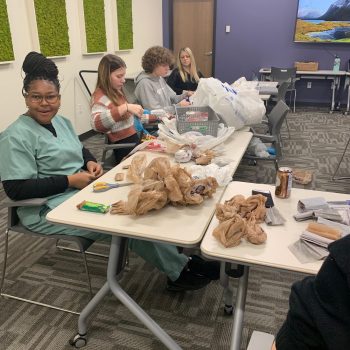 For the past few months area teens have joined the Steven A. Cohen Military Family Clinic at Centerstone in recognizing the importance of mental health. They've created positive messages and shared them on social media, encouraging their peers and reminding them they are not alone in troubled times. Now, this group is setting its sights on giving back to the community as well.
"This is a very caring group," clinic Outreach Director, Meghan Williams, explained. "They are here because of that fact. From the first day we formed this Youth Task Force, they've asked how they can help and have been eager to make a difference."
The group's recent project may sound simple – cut plastic bags – but what these bags will become may be lifesaving.
"Homelessness is a concern for some in middle Tennessee," Williams noted. "With colder weather coming in, those with this insecurity are at great risk. Thankfully, our community has come together to provide this population with a piece of comfort and our Task Force is proud to join the cause."
The initiative looks like this – area businesses, with the help of boxes provided by the Montgomery County Veterans Coalition, collect discarded plastic shopping bags that are then distributed to local youth groups to be cut and assembled into balls like yarn. From there, the balls are taken to area assisted living facilities where residents crochet them into plastic mats. The completed items then find their way to non-profits serving those struggling with homelessness such as YaiPaks and the United Way.
"The sheer amount of people involved in this project is inspiring," Williams said, "and it truly is a win for all. Area children get to serve others, assisted living residents are able to feel a sense of purpose, the homeless are receive more than a mat, but a gesture of hope from the community. Even the environment is being positively affected. So, yes, it may sound simple to 'cut bags', but the bigger picture is so much more."
The Task Force began the project just this month and will continue to have their hands busy for as long as there are bags to reshape.