Cohen Clinic at Centerstone, Team Unbroken Jump with the Army Golden Knights for Veteran-Military Mental Health Awareness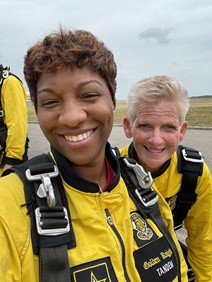 On Monday, May 3, 2021, Sharjuan Burgos, Steven A. Cohen Military Family Clinic at Centerstone, Fayetteville Outreach Director, and members of Team Unbroken—as seen on Amazon Prime's World's Toughest Race—jumped with the U.S. Army Golden Knights Tandem Team to bring awareness to veteran, service member and military family mental health.
The event was one to remember and one that was personal for those who participated.
Burgos, who celebrated her retirement from the U.S. Army after 27 years of service during the jump, understands the challenges transitioning veterans face.
"We want veterans, members of the military and their families to know that it's okay to seek mental health treatment. We want to break down those barriers to receiving care. This life can be tough, but we are tougher!" said Burgos, who carried her retirement flag in her suit during the jump.
For Founder of Team Unbroken, Gretchen Evans, Command Sergeant Major (Ret.), it's important to remember that it takes personal resiliency and a team to overcome obstacles, including physical and mental challenges.
"Each member of Team Unbroken has experienced a life-threatening illness or trauma. We believe that it is important to not let these events define you. Everyone has grit and gumption inside them," said Evans. "It's how you find and use it and your rope team—those around you who support you—to go beyond obstacles to serve others."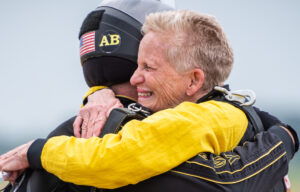 If you are a veteran, service member or family member who needs support getting back to better, contact us today for more information on our programs and services designed for you by calling 1-877-463-6505 or visiting our website.
Read more about this amazing event in the following stories:
Jumping for Mental Health, The Laurinburg Exchange
Army Golden Knights Jump for Mental Health Awareness, DVIDs