Meet the Team: David Vasquez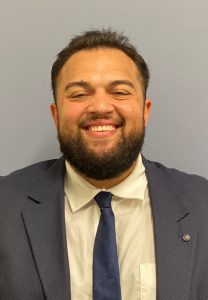 One thing is definite within the Steven A. Cohen Military Family Clinic at Centerstone – our team is a team.  Each and every staff member not only plays a crucial role in accomplishing our mission to ensure our military families receive the care they've earned, but they do so from the heart and with a passion that can't help but to inspire. Here's a closer look at one such teammate Office Manager, David Vasquez.
Tell me a little bit about yourself, such as where you grew up and your background leading up to joining CVN?
I grew up in the northern part of New York in the borough of Brooklyn. Bushwick, a working-class neighborhood, to be more precise. I did not grow up with much but whatever I lacked materialistically, I had with family. I moved to Florida in 2003 and went to a community college for two years. It was from there that I decided to join the United States Navy. I did my time in the service and was really looking for a way to continue to serve the veteran community and came across CVN. I've worked in Mental Health before and it just seemed like a perfect opportunity for me.
If a Veteran, can you tell me about your time in service?
I served as a Hospital Corpsman in the United States Navy for 7 years. Throughout my time of service, I was privileged to have gained so much knowledge and experience in the medical field. I was afforded leadership opportunities and I was able to work along some great people with experience and wisdom well beyond my years. I have spent time "green side" with the Marines as a FMF (Fleet Marine Force) Corpsman and I've also spent time at sea while deployed for the Continuing Promise 15 (CP-15) mission. I've worked in Immunizations, Occupational Health, Overseas Screening, Maternal Infant Units, and a Mental Health clinic throughout my time.
If a Veteran, what was it like returning to civilian life?
It was a culture shock. Even though I did not spend too much time away from civilian life, there were a lot of differences. The pace of life is very different. In the military, you're taught to constantly move with intensity and purpose. When I got out, I realized how slow life is and how much different it was.
You've taken life experience and built a career to help others, what was your greatest takeaway from this process?
I am extremely blessed with my opportunity with CVN. This is my first civilian job after separating from the military and I could not have scripted a better opportunity. I'm able to assist my brothers and sisters in arms that have or are currently serving even though I am out of uniform. It is also in a field that I have worked in before which allows me to be comfortable.
How have things been going at the clinic since you arrived?
Things have been extremely busy within our clinic. We are a brand new clinic and we just opened our doors a few months ago. We have an incredible team with incredible leadership. COVID-19 was an unexpected challenge but we have navigated those waters and have been riding a very good wave.
Have you faced challenges so far in your time at the clinic?
Yes, I have faced the challenges of being a part of a team opening a new clinic into a community that has such a great need for mental health services for veterans. The team has been incredible in overcoming our challenges. We continually adapt and overcome.
What do you hope for clinic and your clients?
I hope to be back into the clinic soon so that we can service our clients face to face. I hope that the word gets out and goes wide and far about us. I hope that veterans realize that we are a safe place where they can seek care and that we are able to touch as many lives as possible.
What do you like to do for fun?
Long walks on the beach….. sunsets…… Seriously, I love sports. Baseball, football, basketball, MMA, boxing, anything competitive. I love to play video games, cook, and laugh.
Favorite sports team?
I will gladly give a breakdown of my favorite teams for each major sport:
Baseball: New York Yankees
Basketball: Brooklyn Nets
Football: New York Jets