Meet the Team: Kelly Capel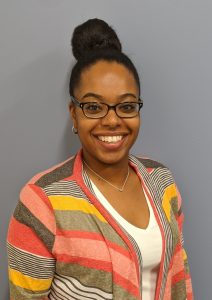 One thing is definite within the Steven A. Cohen Military Family Clinic at Centerstone – our team is a team.  Each and every staff member not only plays a crucial role in accomplishing our mission to ensure our military families receive the care they've earned, but they do so from the heart and with a passion that can't help but to inspire. Here's a closer look at one such teammate, Intake Coordinator, Kelly Capel.
Tell me a little bit about yourself, such as where you grew up and your background leading up to joining CVN?
I am originally from the little, country town of Wadesboro in North Carolina.  I grew up there with my mom, sister, and brother, and eventually my step-father (who I call Dad J).  My biological father died from a massive heart attack when I was 9.  I was a cheerleader since the third grade and thought I would do it in college too – but no way was I being thrown in the air by one guy, I have trust issues! J After high school graduation, I attended East Carolina University (yes, the "party school") and thought I wanted to be a pediatrician.  I still have this hilarious visual in my head of God laughing at 'my plan'.  I started working in a detox unit my junior year and I started thinking – why do people keep coming back in here?!?!  I was interested in working in the substance abuse field, I just didn't know in what capacity at the time. So, I graduated with my Bachelor's in Health Services Management and figured I'd just get into hospital management.  A year or so after graduation, I married a Navy sailor, had my first son, and we moved to Jacksonville, FL.  I soon found out that being a stay at home mom was not for me so I applied for a job at the infamous Mayo Clinic and began working as a floating appointment scheduler.  This afforded me the opportunity to work in nearly every department at Mayo and network with an array of different individuals.   After returning to work from having my second son, I was asked to become a medical secretary for the transplant abdominal surgeons.  I then went back to school and gained a Public Health Graduate Certificate with a concentration in Community Health from University of Florida, and then began the Substance Abuse Counseling Master's program at Nova Southeastern University.  While completing my SA internship at River Region Human Services, I realized that was a significant overlap with mental health and knew I needed to be well-versed in that arena as well.  So what did I do?  I tacked on another year and as of June 2020, I have received my Master's degree in Substance Abuse and Mental Health Counseling.  During my last semester at Nova, I was offered the Intake Coordinator position at CVN.  It was THE blessing I had been praying for, as I initially applied for another position within the company, but leadership saw differently!
You've taken life experience and built a career to help others, what was your greatest takeaway from this process?
My greatest takeaway from my journey is 'you can't pour from an empty cup' – it's so important to make sure you take care of yourself while you are helping to care for others.  And also to keep pushing forward regardless of how many times you stumble or fall.  Often times we get so discouraged by our setbacks that we don't realize our goal is within reach.  Just keep pushing!
How have things been going at the clinic since you arrived?
Absolutely amazing!  I often joke about the interview process where I was asked about my flexibility.  Boy oh boy, they were not playing!  No, really; things have been going very well.  Everyone has been wonderful – we take care of each other.  As a new therapist, I always want to learn and do as much as I can and my team always supports that!
Have you faced challenges so far in your time at the clinic?
No major challenges.
What do you hope for clinic and your clients?
I hope our clinic continues to thrive, and exceeds all of our goals.  Each and every person we have on staff here is passionate about helping the military and veteran community. I hope that we never grow tired of pushing our clients to become the best version of themselves. For my clients, it brings me so much joy to watch them grow in therapy.  What you put into therapy is what you get out of it; I have yet to encounter a client that's afraid to put in the necessary work to reach their goals.  It is such an honor to play a small part of their journey.
What do you like to do for fun?
Fun for me is whatever my boys are doing.  I honestly just love to be in their presence and spend quality time with them.
Favorite sports team?
Carolina Panthers