Mindfulness Tips and Tricks for Kids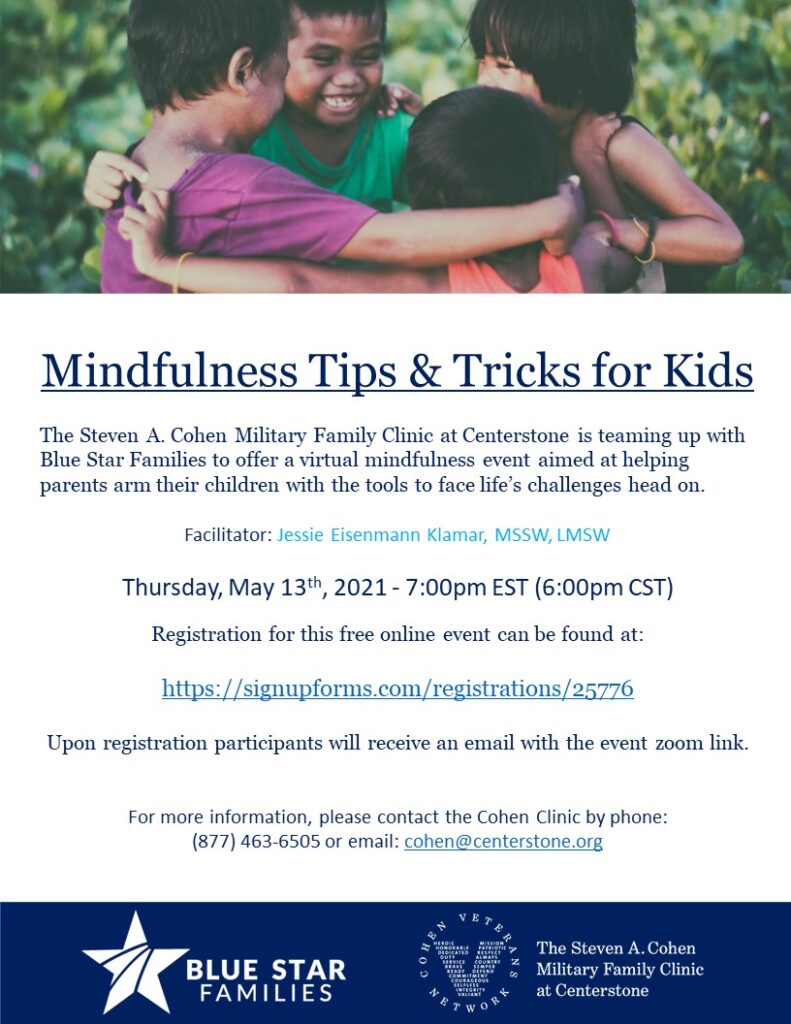 The Steven A. Cohen Military Family Clinic is teaming up with Blue Star Families to offer a virtual mindfulness event aimed at giving kids the tools to face life's challenges head on.
"Our children have faced some difficult times lately," Jessie Eisenmann Klamar, fellow at the Cohen Clinic at Centerstone said. "They've been asked to learn virtually, reentered schools for a period of time only to watch them close again, and then once again reopen. They've missed friends, classroom time and, in some cases, just the joys of playing outside. All of this can be not only confusing, but challenging, especially for our youth. Our goal, with this seminar is to give parents a few helpful tips and tricks on how to better support them moving forward."
Klamar will host the online seminar for parents in partnership with Blue Star Families on Thursday, May 13th at 6:00pm CST (7:00pm EST). She plans to cover a variety of mindfulness skills that parents can share with their kids in hopes that putting them to use will help ease some of the burdens and worries they face.
"There are a variety of techniques that I hope truly help both parents and children," Klamar said. "Becoming more mindful in our approach to difficult times can not only work to calm us in the moment, but overtime, make facing life's obstacles less scary because we have honed the skills to cope."
The virtual Mindfulness Tips for Parents seminar is open to any Blue Star Family or military family and both the Cohen Clinic at Blue Star teams hope families take advantage of the opportunity.
"We are really excited for this event," Karrisa Poe, Blue Star Families, Tennessee Chapter Director, said. "This comes at a perfect time for our military families. We are so grateful the Cohen Clinics at Centerstone are able to offer us this opportunity to help strengthen our families and ensure they continue to thrive."
Anyone interested in attending the mindfulness event can register at: https://signupforms.com/registrations/25776  and upon registration participants will receive a follow-up email containing the zoom link to seminar.
For more on the Cohen Clinics at Centerstone including information on services they provide log on to the clinic's website at https://centerstone.org/cohen-military-family-clinic/