How to Talk to Kids about Mass Violence: Tips for Parents and Caregivers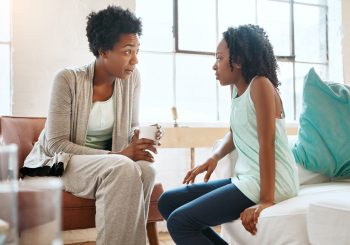 When tragic events happen within our community, it's important to talk with our children in a way that is truthful and reassuring. As the number of mass violence and school shooting incidents continues to increase, this can lead to fear, stress, and uncertainty for both kids and adults.
"Whatever your age, violent events like the one that occurred at The Covenant School in Nashville can cause intense feelings of anxiety and grief," said Becky Stoll, Centerstone's Senior Vice President of Crisis Services.
"For children, these emotions can also be mixed with confusion and fear. The adults in their lives will be the ones they look to for reassurance and comfort. These are difficult conversations, but ones that must be had to take care of these young people."
The reactions of children are often influenced by the responses of parents, teachers, and other caregivers. Here are some things you can consider when talking with children after a school shooting or other similar events:
Be supportive and understanding of different reactions, even when you are having your own reactions and difficulties, and hold space for any feelings your child may have about the situation.
Limit screen time with your child. Social media and watching news stories may be difficult during this time and can contribute to heightened fears and anxiety.
Answer questions in a way that is truthful and age appropriate. Sometimes rumors and misinformation can be part of conversations your child is privy to, so be sure to provide only the facts. And if you don't know the answer, it's OK to say you don't know.
Help your child feel safe by allowing them to voice their concerns and reassuring them they are safe right now in this moment.
Seek professional help if your child has continued difficulties or if your child wishes to talk with someone about the incident.
Check in with yourself and access supports for yourself as you navigate the situation and support for your child.
Centerstone is here to help families cope with difficult things and our specially-trained counselors are available to provide compassionate care. If your family or others you know have been affected by mass violence, reach out to us at 877-HOPE123 (877-467-3123) or visit our children and family page for more information.
---
---