The Hold Me Tight Program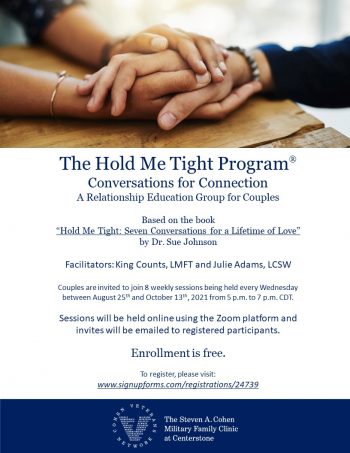 Help for couples seeking a stronger, more meaningful relationship is at their fingertips.
In these unprecedented times our relationships may be more important than ever, and our Cohen Clinics are working to make it easier to nurture these bonds by breaking down geographical barriers to care and offering its highly talked about couples' workshop live online to the southeast.
For many families finding time to do just about anything outside the norm of already hectic schedules can be daunting. Add to all of that, the unique stressors the COVID-19 pandemic have introduced and the toll it takes on relationships, life can seem overwhelming.
"We understand that this has been a trying year for all of us," Julie Adams, assistant director of the Cohen Clinic at Centerstone and one of the two-part team that facilitates the quarterly Hold Me Tight Program said. "Taking care of those we love and nurturing our relationships is possibly more vital now than ever. Having a healthy, caring relationship in difficult times provides us with the support to get through those trying moments together. We hope that by offering these interactive workshops we're able to share valuable lessons that can keep our military couples feeling strong in their connections."
The Hold Me Tight Program will be begin on August 25th and will consist of eight weekly sessions. Throughout the eight-week workshop, couples will be reminded that deep friendship may be the key to a successful marriage.  Sessions will include encouraging participants to share their experiences, support one another, create connections and develop shared goals. They will be introduced to the seven principles of a stable marriage – easy in concept, but difficult when deployment, moves, children, a busy life and now physical distancing guidelines can get in the way.
"We've had the pleasure of providing this series a few times now," therapist, Dr. King Counts, who facilitates the workshop with Adams said. "We have witnessed participants grow and improve their relationships in deep and meaningful ways. It's an honor to see and we couldn't be happier that we can offer these sessions free online, allowing military couples from across the southeast to join us."
Military couples looking to take part in the upcoming Hold Me Tight workshop can register at https://www.signupforms.com/registrations/24739.
For more information on the Steven A. Cohen Military Family Clinics at Centerstone, including options for live online therapy opportunities, visit the clinic's website at centerstone.org/cohen.