What Our Clinician Wants You to Know About PTSD Treatment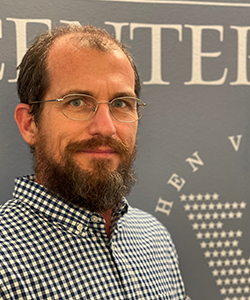 By: Matt Turner, LCSW, Clinician | Steven A. Cohen Military Family Clinic at Centerstone in Fayetteville, N.C.
When I think about post-traumatic stress disorder (PTSD) and treating it in our clinics, so many things come to mind. Here are a handful to consider if you are living with PTSD or living with someone who experiences PTSD.
Myths About PTSD Treatment
Often, individuals don't enter our clinic seeking treatment for PTSD for many reasons. Some people believe that PTSD treatment will be too difficult, too destabilizing, past attempts at treatment haven't worked, or they simply think PTSD symptoms are something that they will always have to live with or that they will never get better.
Truths About PTSD Treatment
Unfortunately, individuals with PTSD who don't seek treatment can usually expect symptoms to worsen over time, not get better. Individuals who seek treatment for PTSD will have choices, as there are a few different empirically validated approaches, which have had been proven effective in the treatment of PTSD.
Additionally, PTSD resulting from trauma that occurred months, years or even decades ago can be treated and with good outcomes. PTSD isn't a diagnosis reserved solely for service members and veterans. Also, not all service members and veterans will develop PTSD.
A 12-Week Investment in Your Future
PTSD treatment is challenging, and it is normal for individuals to question their readiness for treatment or want to avoid treatment all together. Individuals who are contemplating treatment, however, should consider their treatment as roughly a 12-week investment in a future where symptoms aren't so significant. It is never too late to seek treatment for PTSD!
We Deliver Exceptional Care to Veterans/Service Members
I also think about the investment that Cohen Veterans Network makes in our clinics and our providers. This investment is a sizeable one, and it is to ensure that each clinician has received recognized training in evidenced-based practices to treat PTSD.
This focus on and dedication to training means that our providers have not only received excellent recognized trainings in treatments for PTSD but also have participated in consultation to ensure they are competent and capable to deliver exceptional care to our clients.
We Deliver Exceptional Care to Family Systems
At the Steve A. Cohen Military Family Clinic at Centerstone in Fayetteville, N.C., we are a military family clinic, as the name implies. As I think about those suffering with PTSD, I can't help but also thinking about the families who love someone with PTSD.
Our clinics are well positioned to treat individuals with PTSD but also the family members, as well. If we think of families as a system, each member of the family impacts and is impacted by other members of that family system.
It is very difficult on the family system when loved ones begin to change, as individuals who have PTSD may begin to seem withdrawn, irritable, and often don't feel comfortable (or may refuse) going out in public where there may be crowds, loud noises and unfamiliar people. Due to these changes, individuals with PTSD may also begin doing less with their family and missing events, which are important to their loved ones.
We are here to support you in your mental health. Contact our Cohen Clinic at Centerstone at (910) 500-1800 or by visiting: https://centerstone.org/cohen-military-family-clinic/fayetteville/.